Transform Your Outdoor Living Space with a The TV Shield Weatherproof TV Case
Overview
Specifications
Protects Against
Protection Notes
Quick Specs Overview:
Maximum INSIDE dimensions Width (38.75") Height (23.5") Depth (4.31") OUTSIDE dimensions Width (42.25") Height (27.125") Depth (7") WEIGHT: 27 LBS

*Please measure the outside dimensions of your TV or Display, or the planned TV, and compare to the inside dimensions listed on this page
Installation Instructions:
Owner's Manual Video: The TV Shield Installation Instructions
Enclosure Overview:
 Unit Protects 36-42" TV (up to a 43" with prior measuring)
The TV Shield® is a universal PLASMA, LCD, or LED TV enclosure that provides comprehensive water, dust, theft & tamper protection for most residential and commercial TVs and Displays. These weatherproof TV enclosures preserve and protect the TV, and provide an ultra-clear view of the television or flat panel display when closed, and when opened offer a direct view of the TV or display. Weather-resistant, lightweight, durable, secure, and affordable, The TV Shield was created by Florida residents and engineered for over two years to withstand hot summers and harsh rain in everything from tropical climates to harsh cold climates (with a heater). The unit is manufactured in the USA using a HMWPE High Molecular-Weight Polyethylene plastic case (an outdoor plastic built to last 20 years or more). The unit also features a guaranteed not to crack, thick, shatter-resistant front panel built out of ultra-clear grade Lexan® polycarbonate (the same material used in bulletproof glass, racecar, and spacecraft windshields). The TV Shield is secured with two metal chambered and keyed locks which prevent theft, tampering, and vandalism of your television. The TV Shield is also available paired with a TV in a complete outdoor TV kit. Our customers favor The TV Shield for TV protection over other TV cabinets and expensive outdoor TVs due to its low cost, install-friendly design, durability, water resistance, and security. Grab an outdoor TV enclosure today for your patio by the pool, the porch, your balcony, or even your business.

PEC enclosures are currently used in over 38,000 locations in 53 countries

!
Features:
New internal mounting system provides additional rigidity, reduces installation time, and requires no drilling
Entire rainproof unit is sealed to defend TV against moisture intrusion and water damage, using our ExactSeal sealing system
Protective front panel props open easily for a direct view of TV
Shatter-resistant front panel to defend the screen
Dual high strength metal, chambered key lock system to protect your investment
Windproof back housing manufactured with outdoor plastics that fortifies the TV or display against impact
Two louvered vents with bug and moisture screens that prevent heat buildup and bug intrusion which could damage the monitor
Rounded corners for child safety and hazard prevention in institutional environments
Lightweight and easy to install
Universal design that works with any standard VESA mount
The TV Shield is a unique and patented design
PEC units are MADE IN THE USA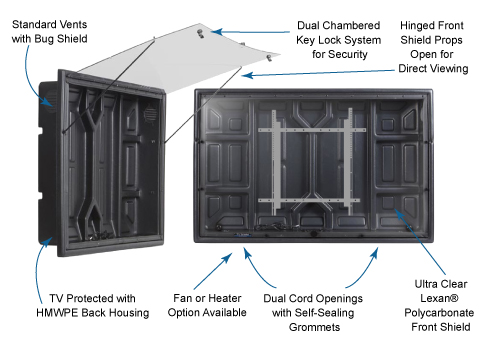 ---
Compare the outside dimensions of your TV or display with dimensions below:
Unit Protects 36-42" TV (up to a 43" with prior measuring)
Maximum INSIDE dimensions Width (38.75") Height (23.5") Depth (4.31")
OUTSIDE dimensions Width (42.25") Height (27.125") Depth (7") WEIGHT: 27 LBS
*Please measure the outside dimensions of your TV, or the planned TV, and compare to the inside dimensions listed on this page.
Details:
.177 Inch thick, ultra-clear grade shatter resistant Lexan® polycarbonate front shield
.250 Inch thick HMWPE High Molecular-weight Polyethylene plastic back housing, manufactured with outdoor plastic
Two openings for cords and wiring with self-sealing grommets
Two high strength, metal chambered and keyed locks
Two louvered vents with bug screen (upgradeable for wash down facilities or unique environments)
Proprietary "prop arm" system (one in each top corner) to keep shield open for a direct view of TV
Protects Displays, Monitors, and TVs from everything in any environment:
Water (Rain, pool splashes, sprinklers, wash downs)

Moisture (Condensation, dew, steam, humidity, dampness)

Dust (Grime build-up)

Tampering (Burglary, theft, vandalism, attempted destruction of product)

Pests (Bugs, insects)

High impact (Storms, branches, baseballs, flying objects)

Extreme temperatures (Hot and cold)

Sun 
Other things you should know:
Please note this enclosure requires a separate external mount for installation
This protective TV case is not designed to be water-submerged ​​​​​
Graffiti like spray paint can be washed off of the screen with special removal spray and dry-erase markers are usable on the front panel
Thermostatic fans that click on at 88° and off at 78° are available for all enclosures and included with some models and kits
Thermostatic heaters are available upon request (turns on at 41° F and turns off at 47°)


* Protective Enclosures Company, LLC will not be held responsible for orders placed for TVs or Displays over the listed specifications, and although we will accept a return, there will be a 10% restocking fee assessed, as well as the customer will be responsible for actual shipping and return shipping of the unit. If you plan to use an enclosure outside of the recommended and listed specifications, please make sure it will work for you before you order. By purchasing, you acknowledge that you have read and accept these terms and will hold harmless, PEC and all subsidiaries, business partners, and officers.
36-43 Weatherproof Outdoor TV Enclosure

The enclosure arrived on-time and in perfect condition. Installation was easy and went well. My comments address usability. My mistake for not reading the sales material more closely but I didn't realize that the "glass" front was so hard to put up and down. I didn't purchase the anti-glare screen and/or the sound/volume booster because I thought that I would be lifting the "glass" screen to view the TV but lifting the "glass" screen takes 3 to 5 minutes and there are pieces that you have to keep track of. I can't believe that you can figure out a way to have the "glass" screen just flip down and clip shut instead of the six (6) screws you have to deal with. Also, you should figure out a better way to hold the "glass" screen up. Having to unhook the two (2) supports and manually put them in the holes in the "glass" screen is not terribly convenient. Other than these usability issues which I probably should have been aware of I think the product is great and would high recommend it.

Thank you for The TV Shield. We installed it in our backyard and it is working great. The customer service team at TV Shield was also very helpful in answering questions and dealing with any issues. Thank you!

Solid Design and Easy Install

Solid Design and pretty easy to install your TV into the enclosure. Just be patient! Could be a little more user friendly if the flip up panel was on a hinge with latches on each side to secure instead of the 6 screw down knobs. It is well made and the customer servive was outstanding.

Visibility is great, makes tv looks larger than it actually is, sounds pretty good but I should've gotten speakers for better sounds. So far so good though.

I highly suggest an led screen to compete with the bright outdoors, it also runs cooler and is slimmer which gives you more room to work with. As well got the tilt/swivel mount directly from the tv shield on their website so I can adjust to perfection. Cant tell you how fun it is to have a tv outside and when the weather cools down some in florida im going to be out there all the time watching the back porch. Its like I have another room now. Great product! Super happy! A+++++++

Amazing Company and Product

Thank you guys again, you're an amazing company and have been great to us. We're really excited to get this thing installed!