About Us
The Leading US Manufacturer of Secure Weatherproof TV Enclosures
Protective Enclosures Company (PEC) is an A+ BBB rated privately held, US-based manufacturer of affordable, lightweight, weatherproof and secure protective enclosures for TVs and digital displays/signage. Manufacturer of the patented The TV Shield ®, The Display Shield ®, The TV Shield PRO TM and The TV Shield PRO Lite TM branded TV and display enclosures, PEC's products are popular with residential, professional and commercial customers.

PEC stands committed to providing the most user friendly, affordable, versatile and highly engineered protective enclosures in the industry. PEC is fueled by a desire to create US-based jobs and manufacture the highest quality products. Our The TV Shield ® and The Display Shield ® enclosures are built with top quality materials and MADE IN THE USA in a state of the art 45,000 square foot manufacturing facility in Kansas, while our The TV Shield PRO TM lines are being produced by King Precision Solutions manufacturing facility located in Erie, PA.

From top to bottom, the PEC team is committed to the research and development of solutions-based products to protect equipment in outdoor residential installations and harsh or extreme indoor and outdoor commercial environments. Professional AV installers trust PEC's proprietary patented enclosures for installation in residential applications as well as arenas, stadiums, theme parks, restaurants, bars, airports, healthcare facilities, hotels, schools, training facilities, government buildings, retail environments, institutions and a wide variety of additional locations. Our enclosures protect TVs, digital displays and digital signage in over 12,000 locations in 20+ countries!
BRAND SOLUTIONS:
The TV Shield® is a weatherproof and secure enclosure designed for use with just about any standard TV and with the residential consumer market in mind. Ideal for both outdoor and indoor areas, The TV Shield's lightweight universal design easily opens for a direct view of the TV, allowing you to watch, protect and secure most TVs in nearly any environment. Our enclosures protect TVs in over 12,000 residential and commercial locations and environments and 20+ countries worldwide.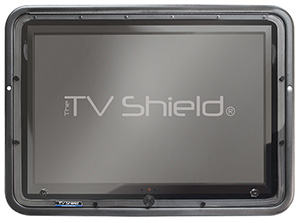 The Display Shield® is a weatherproof tamper-resistant enclosure, designed with a security screw system which provides added protection for flat panel displays and digital signage in high-traffic commercial environments. The Display Shield® also offers protection against rain, theft, tampering and vandalism. Developed for the commercial market, The Display Shield® is lightweight and comes in both vertical and horizontal models.
The TV Shield PRO is a weatherproof and secure lightweight enclosure made with a combination of aluminum and metal which is designed for use with any standard TV or digital display and is ideal for residential, commercial and professional markets. Developed for outdoor areas, The TV Shield PRO's unique design is much simpler to install than other heavy metal enclosures and opens with gas shocks for easy access to the display. The enclosure is available with acrylic or non-glare acrylic protective shields and features larger size options.