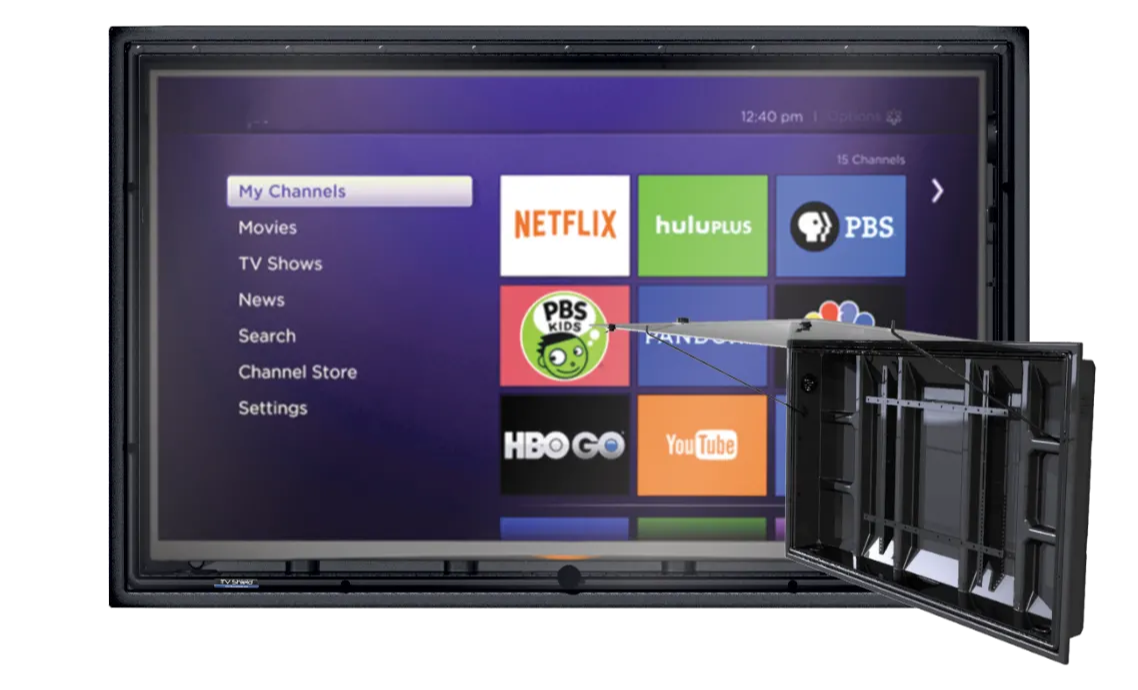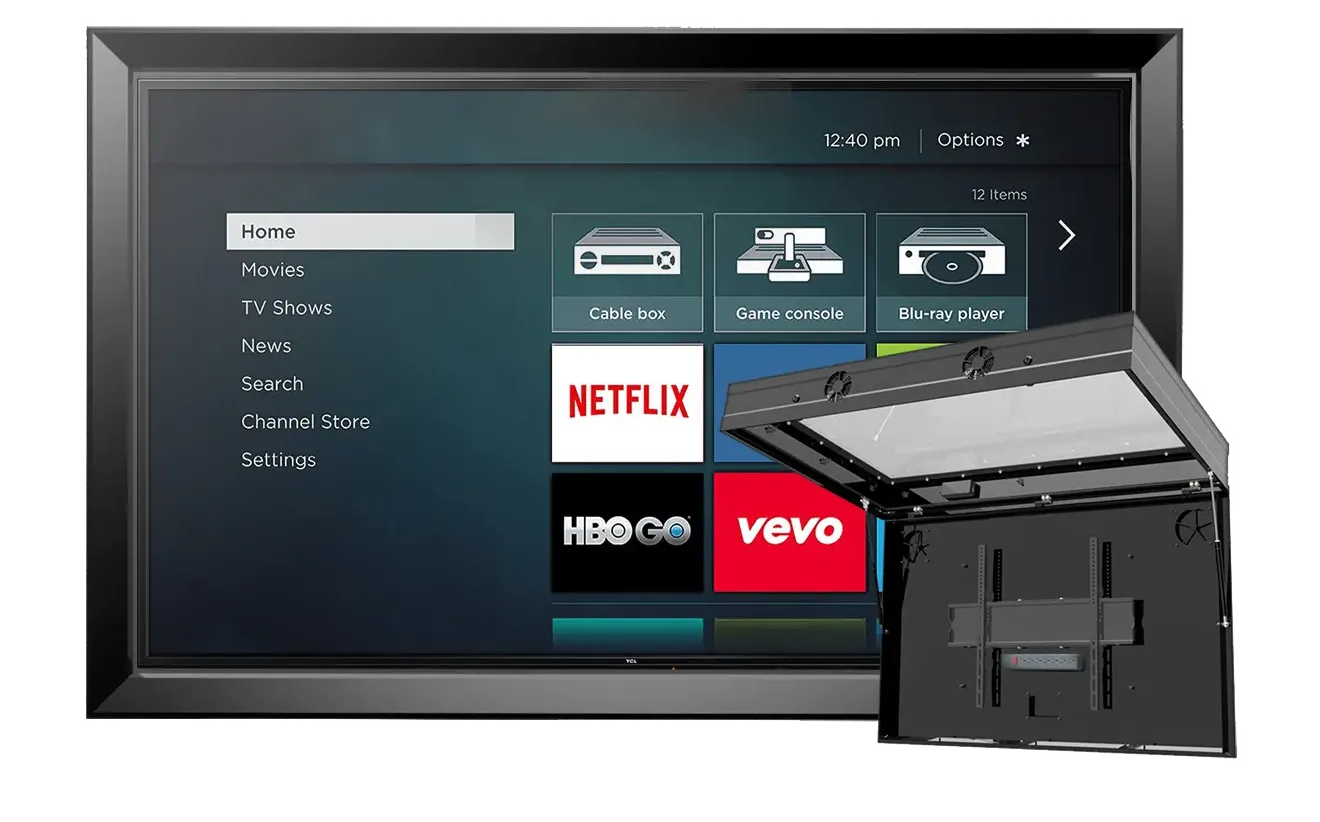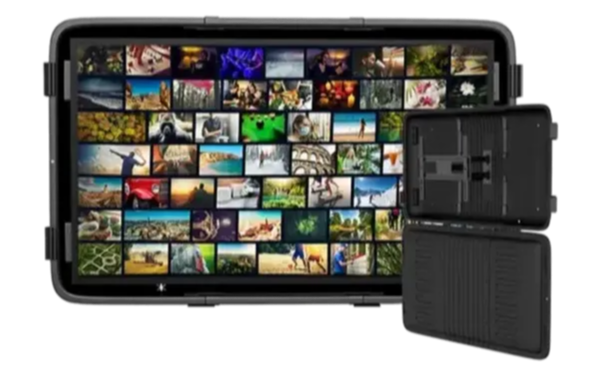 Residential Outdoor TV Enclosure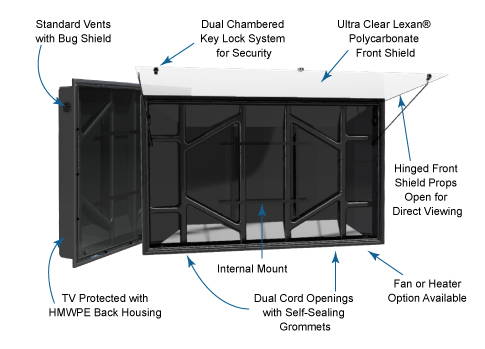 Starting at $399.99
Sizes: 19-65"
HMWPE Plastic (US Patent 9235232)
Lightweight
Anti-Glare (Available)
Key Lock(s) System
Affordable (Outdoor TV Alternative)
The TV Shield is a patented, universal, weatherproof and secure TV enclosure designed for use with just about any standard Plasma, LCD or LED flat screen television, invented with the residential consumer market in mind. Ideal for both outdoor TV protection and indoor digital signage defense, The TV Shield's front panel easily props open for an optional direct view of your TV, allowing you to watch, protect and secure most TVs in nearly any environment. The TV Shield is the leading affordable alternative to an expensive outdoor TV (that don't provide impact/theft/vandalism resistance), and the industry leader in indoor, and weatherproof outdoor TV cabinet solutions. The unit is manufactured in the USA using a HMWPE (High Molecular-Weight Polyethylene) plastic case which is an outdoor plastic proven to last 20 years or more (used in outdoor children's slides and body armor). The unit also features a guaranteed not to crack, thick, shatterproof front shield built with ultra-clear grade Lexan® polycarbonate (the same material used in bullet proof glass, racecar and spacecraft windshields), which was exhaustively researched and ultimately chosen as it is not shatter-resistant, but shatterproof, unlike the cheaper safety glass used in other protective TV cabinet options. Weatherproof TV Cabinet Enclosure that protects from damage and secures your investment.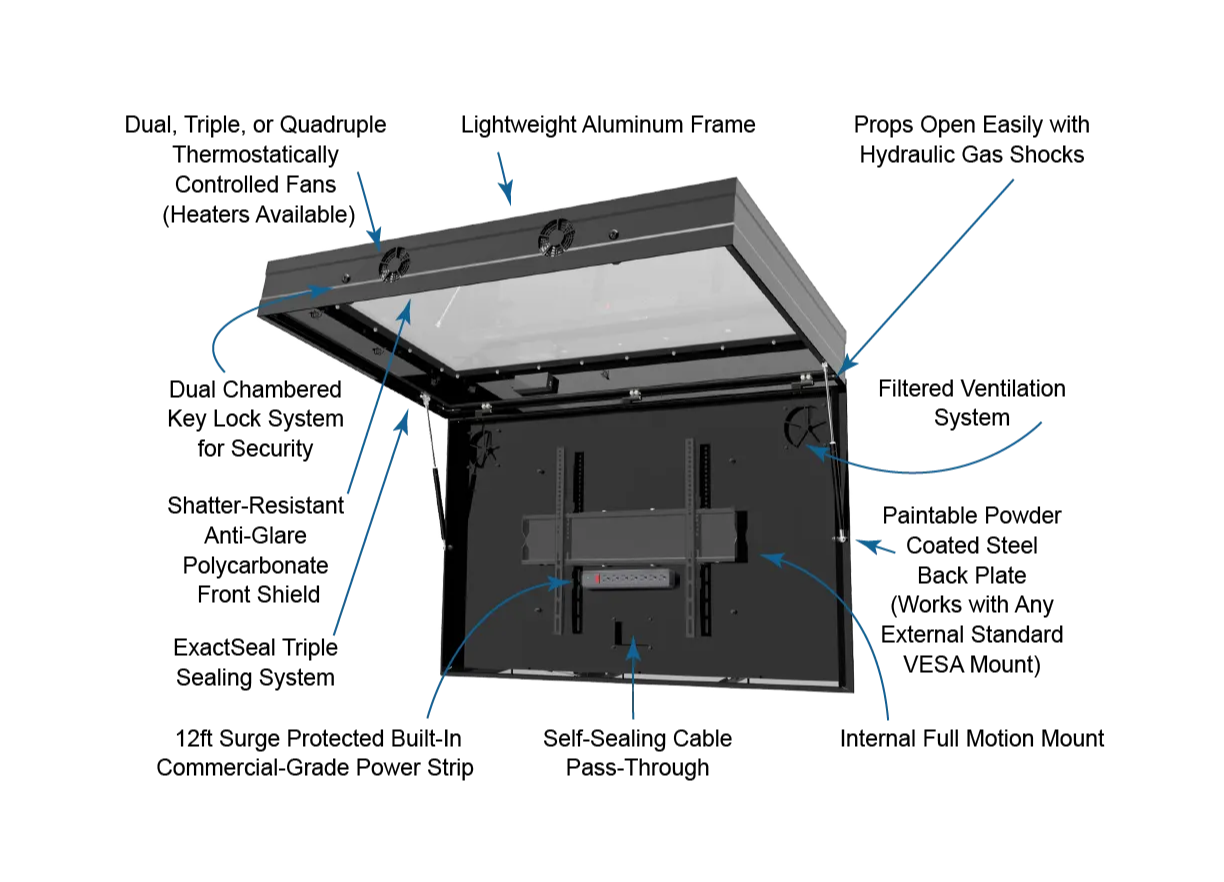 Professional Outdoor TV Enclosure
The TV Shield PROTM is a weatherproof, secure and robust protective outdoor TV enclosure and digital signage cabinet that was researched, designed, engineered and is manufactured in the USA. The "hybrid" design is built with a combination of lightweight aluminum and steel which is powder-coated for the ultimate strength and durability in environmental TV protection. Designed for use with any standard indoor TV or digital display, it is ideal for residential, commercial and professional markets, and has numerous proprietary features based on extensive customer feedback. Developed for outdoor areas, The TV Shield PRO's proprietary "Quick Install" system is faster to install and maintain than any other metal TV enclosure and effortlessly opens with gas shocks for easy access to the display. The included internal full motion, fully articulating mount with depth and height adjustment allows for perfect placement of the screen as well as easy access to the back of the display and inputs after it is mounted (unlike most alternative outdoor TV cabinets), and is specifically engineered to be a superior solution for our worldwide customer base. In addition, The TV Shield PRO outdoor LED TV enclosure can be used with any external standard VESA mount. The entire unit is secured with dual high strength chambered key locks and comes standard with a thermostatically controlled and filtered air circulation system. The TV Shield PRO professional-grade weatherproof digital display and outdoor LED TV enclosure, comes standard with an anti-glare polycarbonate protective front shield and has larger size options up to an industry-first 85 inches. The TV Shield Pro Weatherproof TV Cabinet Enclosure protects from damage and secures your investment.

Residential Outdoor TV Cover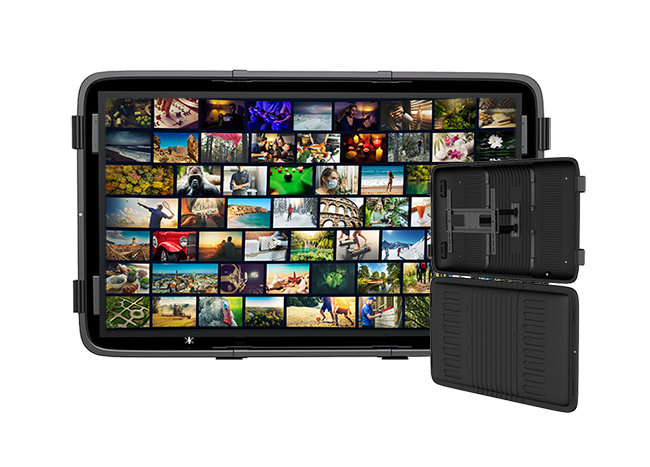 Starting at $249.00
Sizes: 36-65"
ABS & ASA Plastic
Landscape
Affordable
Weather Protection
Damage Protection
Theft Protection
The TV Shield E-Series™ is a cost efficient yet robust alternative to an expensive outdoor TV and offers much higher protection than purchasing an outdoor TV cover made from fabric. This affordable, sturdy, and versatile outdoor electronics cabinet and protective enclosure provides effective rain, wind, UV, and vandal resistance, preventing TV damage and protecting any other hardware or contents it houses.
PEC'S RESIDENTIAL ENCLOSURES HAVE APPEARED ON
Designing Spaces, Spontaneous Construction, & More
The TV Shield® on Spontaneous Construction
The TV Shield® on Lifetime Network's Designing Spaces
The TV Shield® Durability Demonstration Video
The TV Shield PROTM Demonstration Video
The TV Shield® Outdoor TV Cover
The TV Shield® Protect Your TV from Life
The TV Shield® Watch TV Outside
The TV Shield® LCD, LED, Outdoor TV Cabinet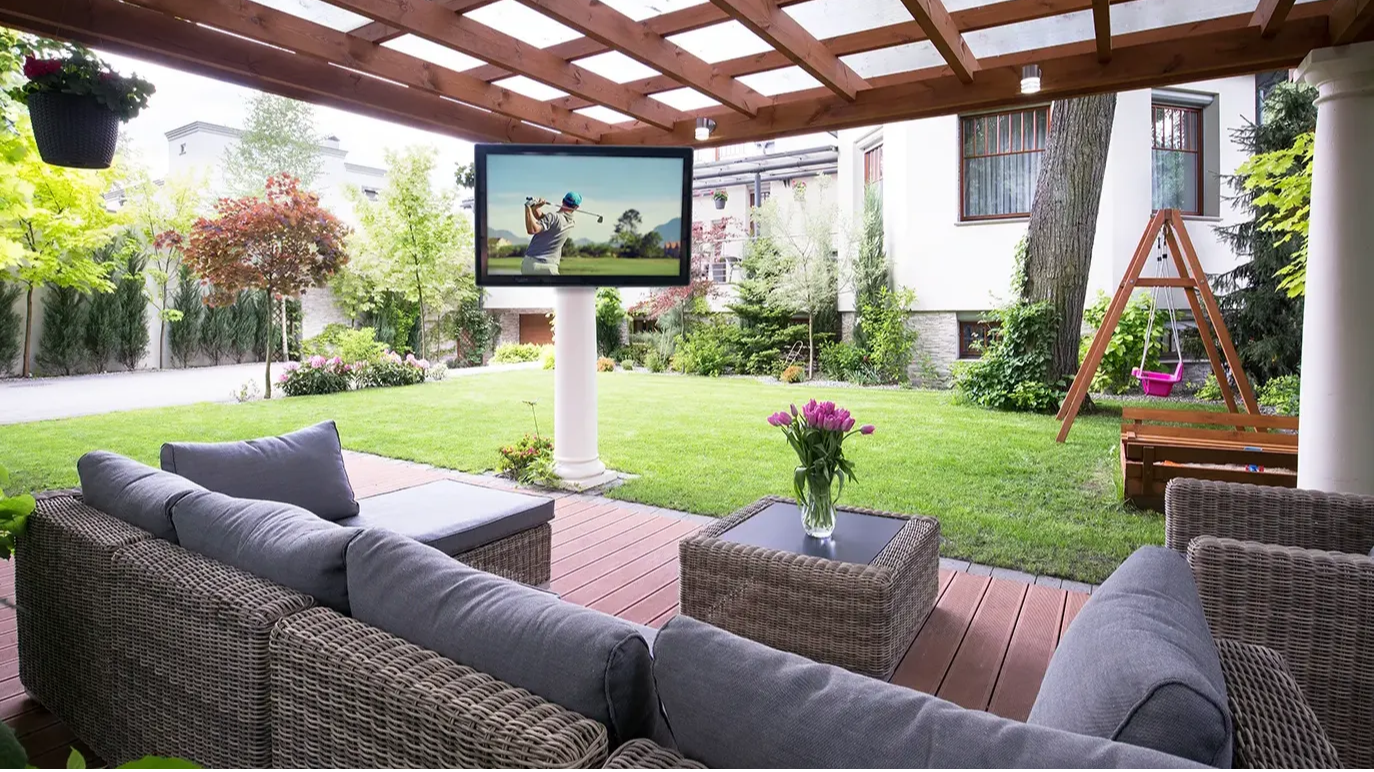 The TV Shield® LCD, LED, Outdoor TV Enclosure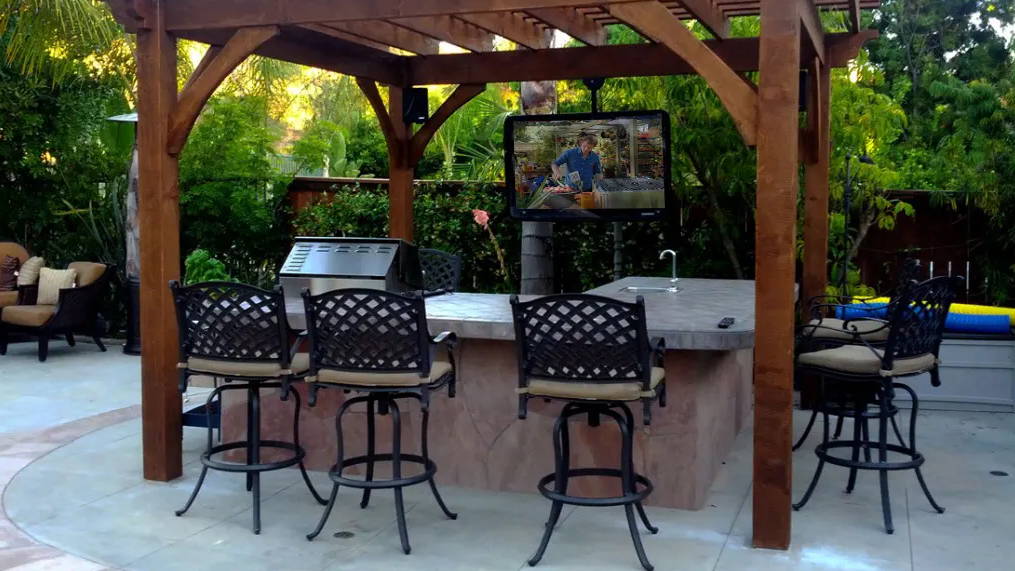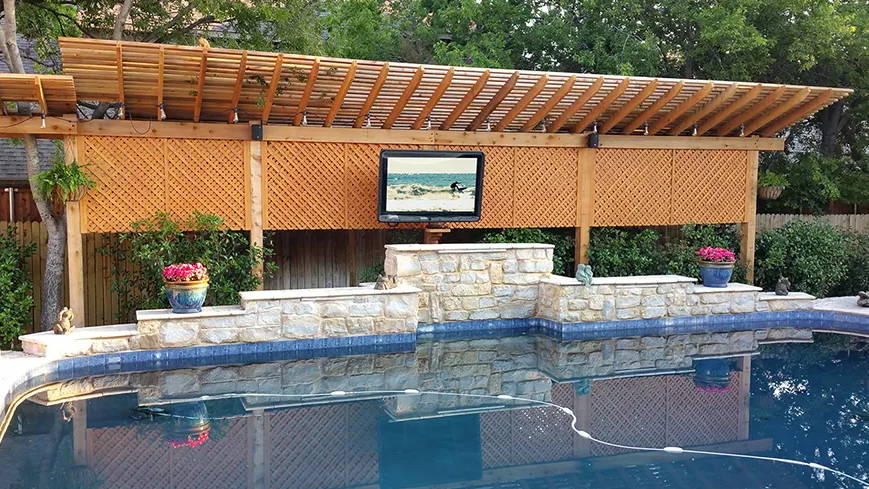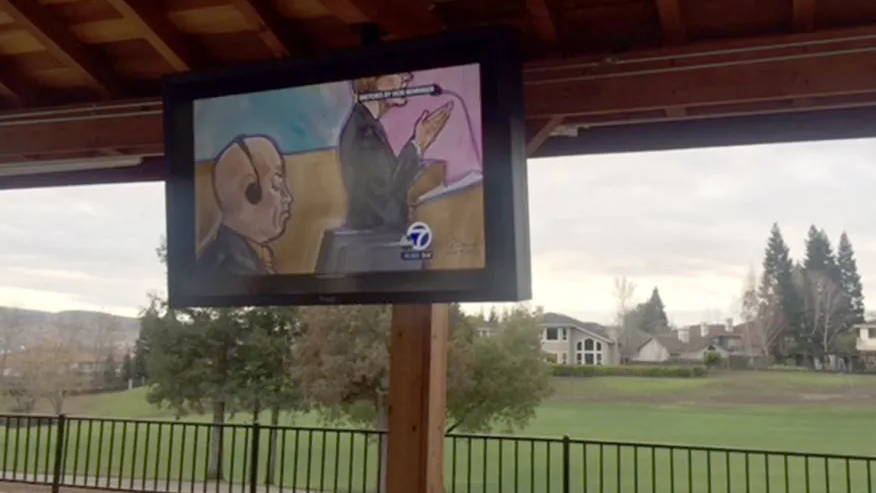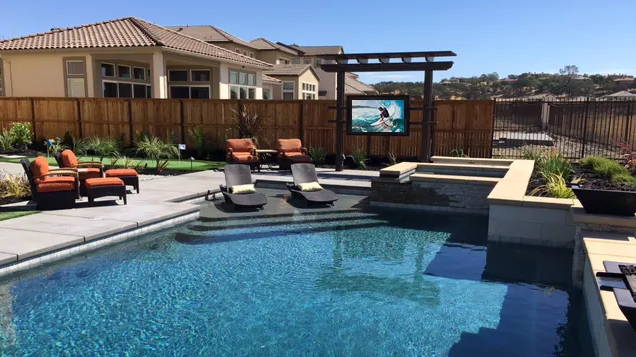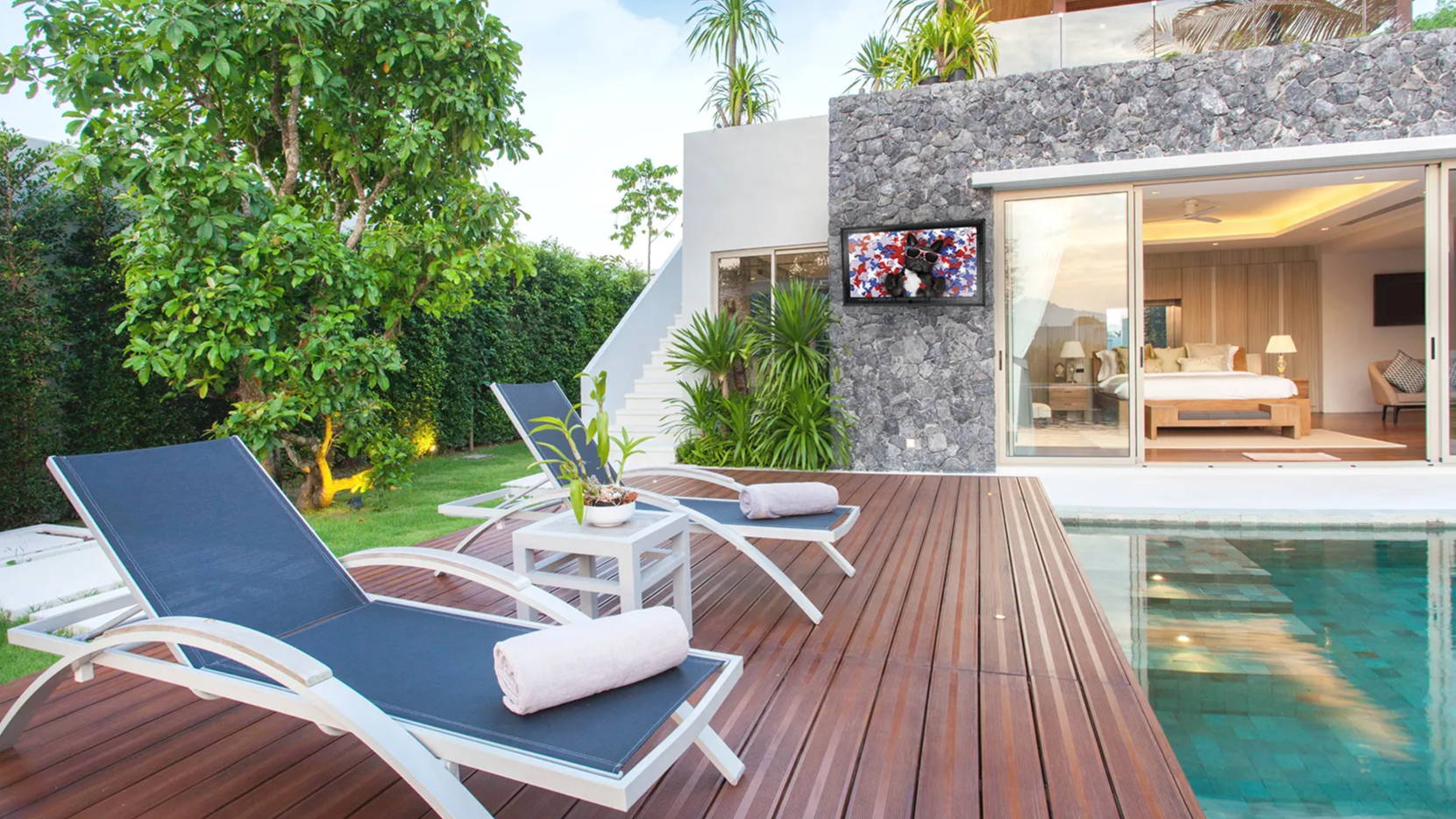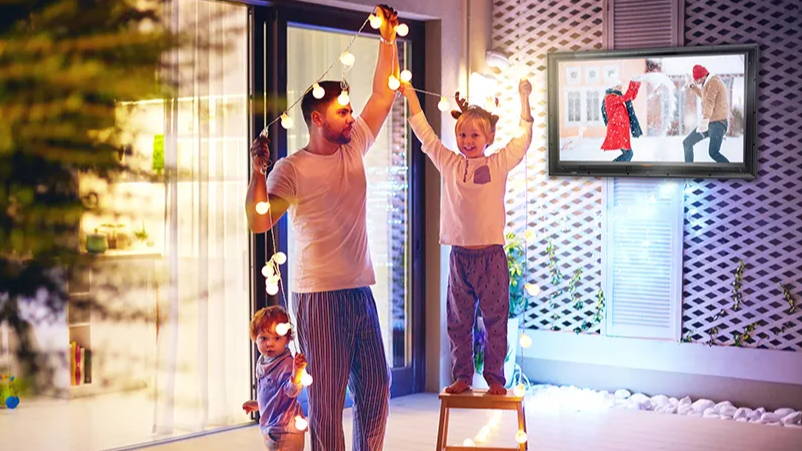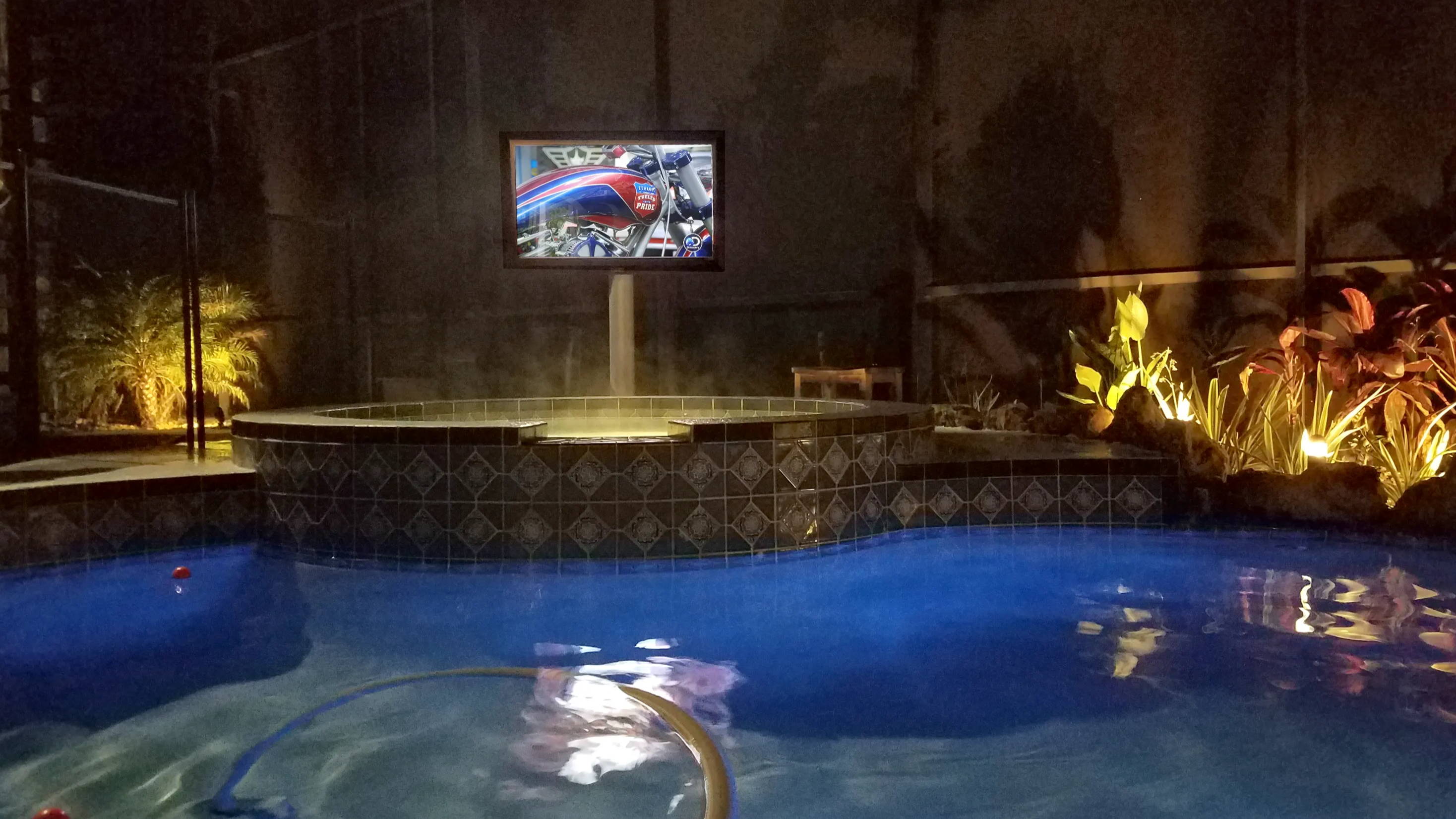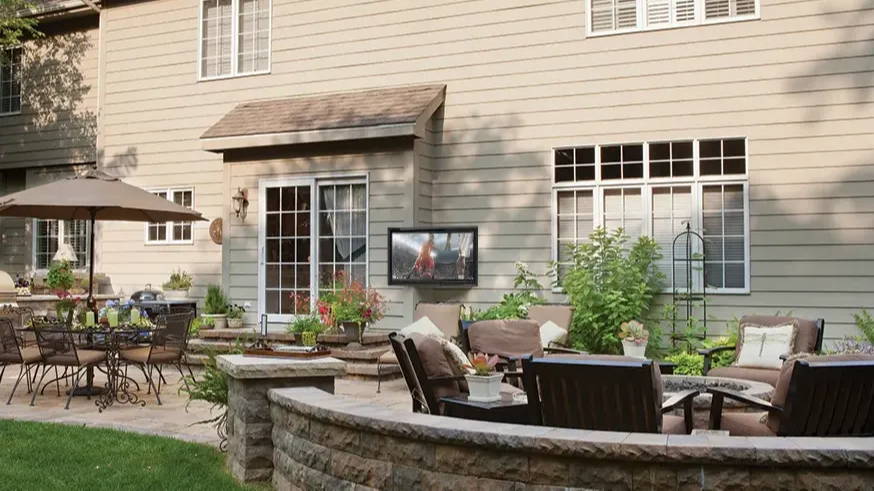 | | | |
| --- | --- | --- |
| ✔ FREE same day shipping * | ✔ Unique, universal patented design | ✔ Only weatherproof polymer TV enclosure on the market |
| ✔ Proudly made in the USA! * | | ✔ Weatherproof sign/display alternative – SAVE thousands! |
Our trusted outdoor TV enclosures are currently used in over 38,000 locations in 53 countries!
30 DAY HASSLE FREE RETURN
OVER A DECADE OF EXPERIENCE