Posted by Emilyann Allen on 30th Jul 2021
TV Cabinet for Outdoors: The TV Shield Has You Covered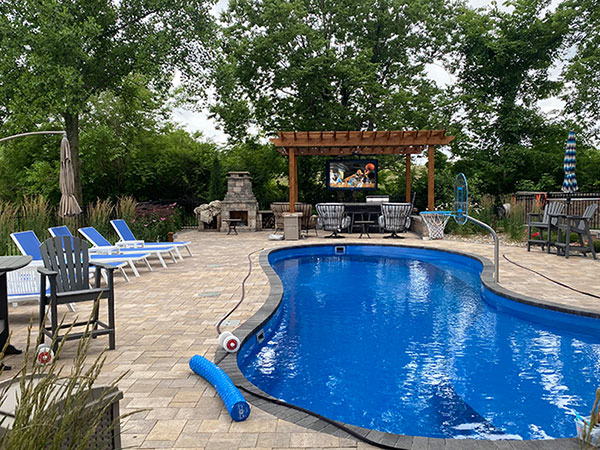 What is a TV cabinet for outdoors? This article dives into everything you need to know about TV cabinets for outdoors. As you swim through this guide, you will discover what an outdoor TV cabinet is, design options, materials to know about, features to consider, and much more. Enjoy!
Table of Contents:
How Do I Make My TV an Outdoor TV?
What Is a TV Cabinet for Outdoors?
Outdoor TV Cabinet Materials and Design Options
Is a TV Cabinet for Outdoors or an Outdoor TV Better?
Outdoor TV Case and Outdoor Projector Comparison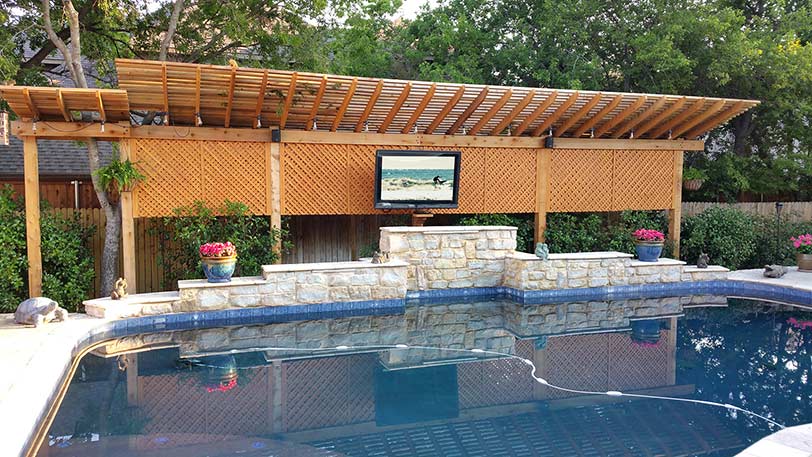 How Do I Make My TV an Outdoor TV?
Are you wondering, "How do I make my TV an outdoor TV?" You could simply place your TV outside, but that is only if you plan to replace it very frequently or you could place your TV outside in a protective weatherproof TV cabinet.
Some people do place their regular indoor TV outside on their screened in porch or under an overhang. Many times, a TV will only last a matter of a few months. On rare occasion that TV will last a year or so and on extremely rare occasion it will last longer. In most cases, it is smart to use an outdoor TV cabinet, especially if the TV is going in direct sun or weather conditions.
What Is a TV Cabinet for Outdoors?
A TV cabinet for outdoors refers to a cabinet (also called an enclosure, box, or case) designed specifically for the purpose of protecting a TV outdoors. There are varying styles and levels of protection which are useful for different outdoor TV placements. For example, a TV placed on a sealed and insulated covered porch may not need the same enclosure specs as one placed on a pergola directly by a pool. Outdoor TV cabinet and outdoor TV enclosure are some other common terms for this type of cabinet.
Outdoor TV Cabinet Materials and Design Options
It is important to understand the difference between different styles and materials when it comes to TV cabinets for outdoors. These cabinets are not, "all created equal," as they say. Below are some materials and functions to be aware of as you search for the best weatherproof TV protection solution.
Design Options for Weatherproof TV Cabinets
The following are some key variations you may want to be aware of as you explore different enclosures.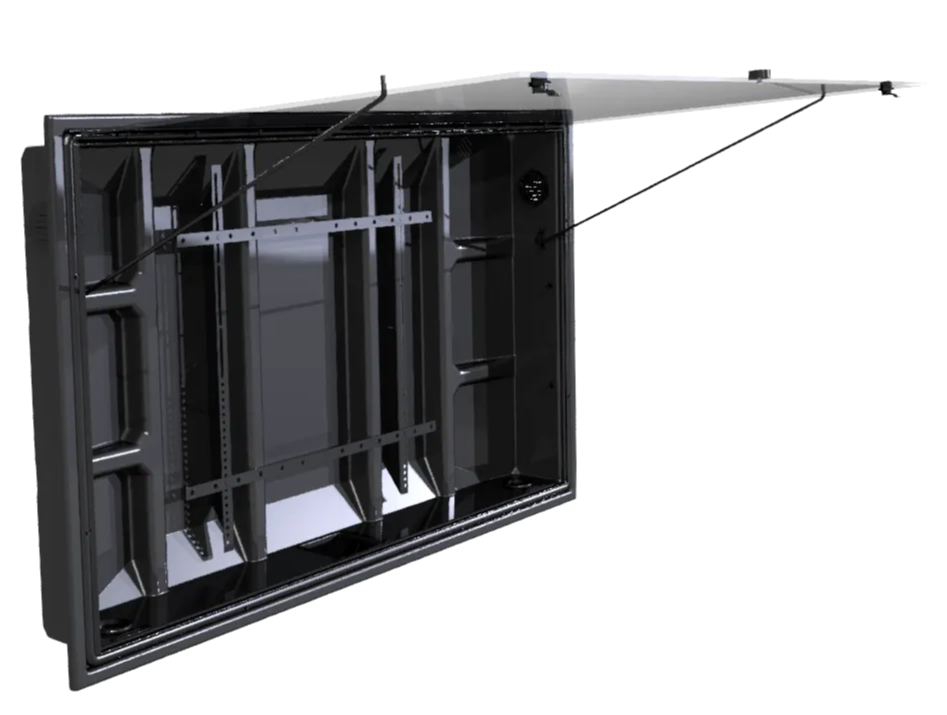 Front Shield Styles (TV Visibility) –
Clear (for Direct TV Viewing) – Clear front shields always allow direct viewing without having to remove the front shield.
Anti-Glare (for Direct TV Viewing) – Anti-glare front shields are especially helpful for providing a clearer picture in certain direct sun outdoor applications.
Opaque (Must Be Removed to See the TV) – Some weatherproof TV cabinets are built with solid color front shields in front of the TV screen. This means the enclosure front shield needs to be removed each time for viewing.
Front Shield Materials –
Glass
UV Stabilized Polycarbonate
Glass or UV stabilized polycarbonate are the most common materials used for front shields on enclosures. They allow direct viewing through a protective front panel that prevents damage to the TV screen. On the other hand, some enclosures have opaque front shields that must be removed each time for viewing. Glass can be very clear for viewing but costs typically run higher, and it is not completely shatterproof. In contrast, enclosures made with UV stabilized polycarbonate tend to cost less, but provide better durability because they are completely shatterproof, and they offer better sun protection for the TV inside the enclosure.
Back Frame or Housing Styles –
Back Frames – Typically, back frame-only enclosures are used in commercial applications and for mild outdoor exposure or indoor environments because they do not provide the same level of weatherproofing. But it is good to be aware they exist.
Back Housing – Most enclosures provide back housing, which is a solid tub into which a TV is placed. This housing is designed to protect the TV. It is good to be aware that different cabinet back housing options may have different materials, build, and features. Below are some diagrams that show good examples. For most outdoor polymer enclosures, enclosures with embedded grooves and ribbing are ideal as they are much stronger than polymer enclosures without solid ribbing. However, powder coated aluminum and steel enclosures do not need ribbing.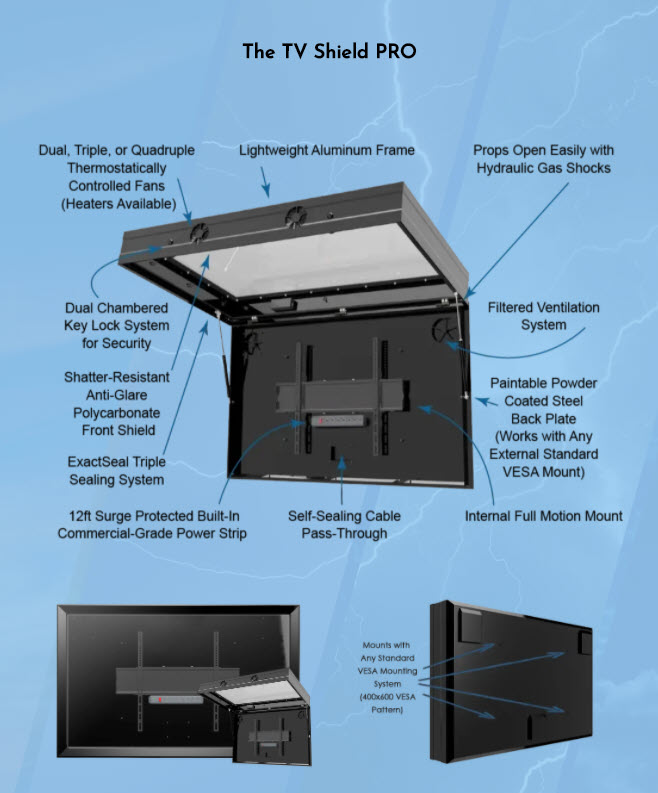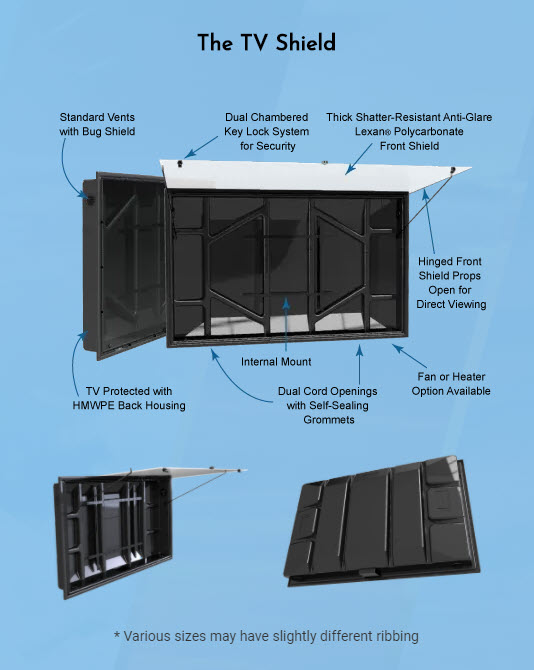 Ready to Grab The TV Shield?

Back Housing Materials –
HMWPE – HMWPE (High Molecular Weight Polyethylene) is the most popular low-cost solution for TV case back housing. It is a specific polymer rated for outdoor usage and is the same material used for slides on playgrounds. It has over 20-year durability ratings.

It is non-toxic, chemical resistant, abrasion resistant, impact resistant, water and moisture resistant, has a very low friction coefficient, self-lubricating, inexpensive to recycle, and has various other benefits.

ABS Plastic – ABS plastic enclosures are available for low prices. But it is very important to note "ABS plastic has lower resistance to extreme conditions and industrial chemicals than polycarbonate and much lower than HMWPW. If your enclosure is likely to see exposure to high temperatures, solvents, or other challenging environments, you most likely need a polycarbonate enclosure," ( Polycarbonate Enclosures vs. ABS Enclosures). ABS material is also known to bow and loose its form easily as well as have poor UV resistance. So essentially, ABS plastic provides very little protection for many outdoor environments.

Wood – DIY enthusiasts sometimes take a stab at wooden cabinets. This is not considered an ideal material in the industry for various reasons. Wood can be a fire hazard and does not stand up well to the elements and bugs. It also begins to break down quickly in rain and other conditions.

Powder Coated Aluminum and Steel – This is another great option on the market but comes in at higher price points. If you're looking for all the bells and whistles and the most robust TV cabinet for outdoor solution, this should be on your radar. Not only is it tough as nails and perfect for harsh environments, but the powder coated aluminum and steel option provides a sleek aesthetic and can be manufactured up to extremely large sizes because it holds its shape well.
Outdoor TV Cabinet Features –
Different features are ideal for different applications. Below is a checklist of features to consider as you evaluate which enclosure style you need.
Weatherproofing – Some key weatherproof elements you may need and want to look for in an enclosure are heaters and/or fans, vents with filters, water and impact resistant materials, durable materials, UV protection of some kind, moisture control, and sealing systems that prevent bug and water intrusion.


Security – Some enclosures are advertised as secure. However, many of them only offer minimal closure solutions such as bucket latches, which are not true security solutions. This is one example why it is so helpful to be informed about the build, materials, and actual usefulness of certain enclosures and features. On the other hand, top quality enclosures offer dual chambered key lock systems and security screw systems for securing the TV inside the TV case as well as lock kits for securing the enclosure from tampering and theft.


Temperature Control – Does the enclosure you are looking at offer temperature control? TVs are easily overheated or frozen in extreme temperatures. Consider heater, fan, and ventilation options when looking for a TV cabinet for outside. If the enclosure does not offer ventilation and temperature control, think of the inside as either an oven or an ice box (depending on the surrounding climate). It is a comical thought, but it is true that TVs do not survive well in ovens and ice boxes.
Moisture Control – If moisture may be a concern, a TV cabinet for outdoors that provides solid ventilation is important. In extreme conditions, you may also want to consider a moisture control gel case .


Bug and Critter Defense – Key designs that truly offer bug protection include things like seals around openings or points of closure and filters on areas like vents. Keep in mind bug defense is actually very important because otherwise bugs crawl into TVs and damage them. In general, it is also good for the enclosure to be fully enclosed to also prevent other pests from damaging the TV, such as birds nesting in wires.

Universal Mount Design – Can the enclosure be mounted with any standard mount? If not, it may be a nuisance to install.


Durability – Many times advertising may claim it is a durable or weatherproof enclosure, but is it really? Make sure to keep an eye out for indicators such as how long the actual materials typically last against the elements. For example, HMWPE is a great material because it is rated to last 20+ years outside. Long warranties, longer than one-year, are great. Longer warranties are even better as they indicate the company stands behind the quality of their product.


Ribbing – Ribbing refers to grooves and structure designed in the back housing of the enclosure. It is not needed for materials like powder coated aluminum and steel. However, any outdoor polymer (plastic) enclosures should have ribbing so they will be solid and steady cabinets that do not bow and bend.


Cable Passthrough – This is key. Make sure you choose an enclosure that has cable holes.


Size Ranges – Consider what size enclosure you want which can influence which kind of enclosure you need. When you are looking for sizes larger than 65 inches, powder coated aluminum and steel is a good way to go. As you are browsing for solutions, take note enclosure options typically protect 19-inch to some 86-inch TVs. If you are looking for smaller or larger TV cabinets, it will likely be a custom build project.


Weight – Most residential style TV cabinets for outdoors are light weight, but you may want to double check the weight before ordering a cabinet, so you are not stuck with a heavy monstrosity.


Ease of Install – Quality TV cabinet manufacturers provide manuals, great instruction videos, and top-of-the-line customer service as well as installer referrals (if you need an installer). Similar to shopping for cell phones and computers, you'll do well to work with a transparent company that provides install guidance and support.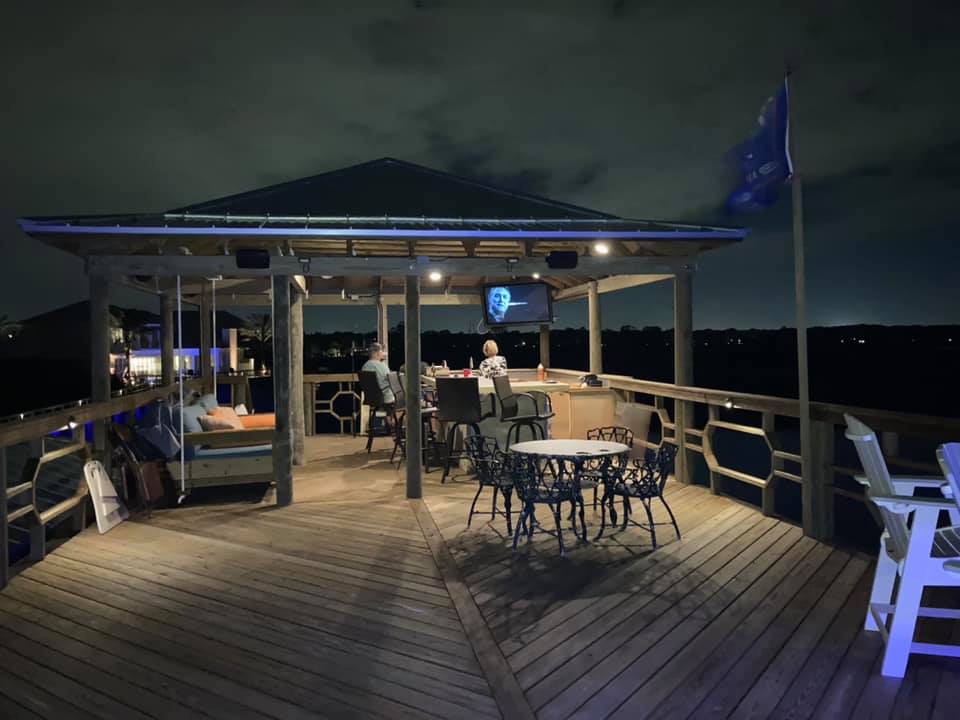 Where to Get an Outdoor TV Cabinet?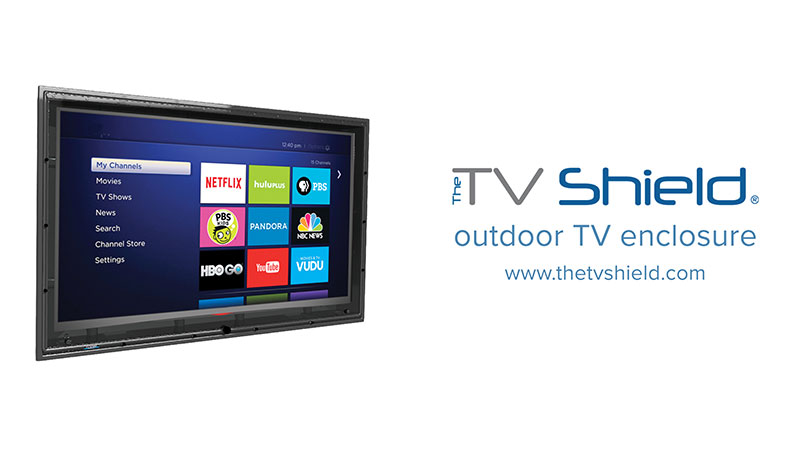 Where does one begin when considering outdoor TV enclosure options? The TV Shield should be on the radar. The TV Shield is a patented, universal, weatherproof, and secure TV enclosure designed for use with just about any standard Plasma, LCD, or LED flat screen television. The TV Shield is the leading affordable alternative to an expensive outdoor TV and is the industry leader in weatherproof TV cabinet solutions. The TV Shield is the original TV cabinet for outside and is generally preferred over an outdoor TV which does not provide impact, theft, vandalism, or resistance. It has been modified over the years to continue leading in the latest advances and is the best of the best.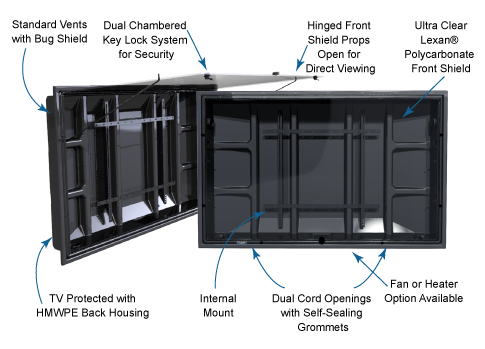 Ready to Grab The TV Shield?

The unit is manufactured in the USA using a HMWPE (High Molecular-Weight Polyethylene) plastic case which is an outdoor plastic proven to last 20 years or more (used in outdoor children's slides and body armor). The unit also features a guaranteed not to crack, thick, shatterproof front shield built with ultra-clear grade Lexan® polycarbonate (the same material used in bullet proof glass, racecar, and spacecraft windshields), which was exhaustively researched and ultimately chosen as it is not shatter-resistant, but shatterproof, unlike the cheaper safety glass used in other protective TV cabinet options.
Ideal for both outdoor TV protection and digital signage defense, The TV Shield's front panel easily props open for an optional direct view of your TV, allowing you to watch, protect, and secure most TVs in nearly any environment. The TV Shield affordable weatherproof outdoor TV enclosure is the leading outdoor & indoor TV enclosure for any 19 to 65-inch flat screen television (US Patent 9235232).
Or, if you're looking for sizes larger than 65 inches, a metal enclosure, or more comprehensive features such as gas shocks and built-in surge protection, take a look at The TV Shield PRO .
Is a TV Cabinet for Outdoors or an Outdoor TV Better?
The answer to whether an outdoor TV cabinet or outdoor TV is better is usually an outdoor TV cabinet. The reality is that although some companies are trying to manufacture and sell TVs that truly withstand the harsh threats of outdoor environments, at the end of the day TVs are still electronics. Electronics and weather do not mix. It is very difficult to truly build a TV with the right design and materials to live outside.
Outdoor TVs which are on the market are typically meant more for mild outdoor applications, like on a screened patio with a fan or heater running on the porch to try to help the TV stay at a balanced temperature. On the other hand, enclosures are truly impact resistant, durable, offer temperature regulation, and even protect additional devices to go with the TV, such as a Roku stick or Apple TV.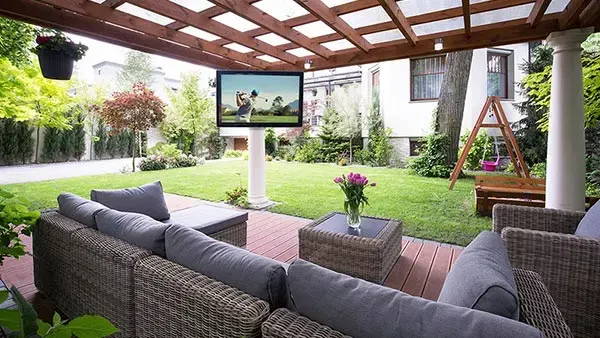 Outdoor TV Case and Outdoor Projector Comparison
Is an outdoor projector, outdoor TV, or outdoor TV cover better? If you're looking for a screen size larger than 98" an outdoor projector is probably the way to go if that is in your budget since a TV cabinet for outdoors isn't an option larger than 98". Whether it is for your home or business, if you're looking for a solution smaller than 98" an outdoor TV enclosure serves the most size options at reasonable prices as well as the option for TVs with the latest technology or the lowest prices. Another reason to go with an outdoor TV case is if you want to weatherproof or defend additional devices, such as a Roku stick or Apple TV. Outdoor projectors also usually need to be taken inside after each use, so they are a temporary option. Outdoor TV cases on the other hand can live outside long term, so that is hard to beat!
With this comprehensive overview of TV cabinets for outdoors under your belt, you are now ready to navigate the waters to find the perfect TV cabinet for you. If you have further questions or inquiries, feel free to contact Protective Enclosures Company, markers of The TV Shield®, The TV Shield PRO®, and The Display Shield®, at info(at)protectiveenclosures.com or 321-441-9689.