Posted by Protective Enclosures Company on 26th Feb 2021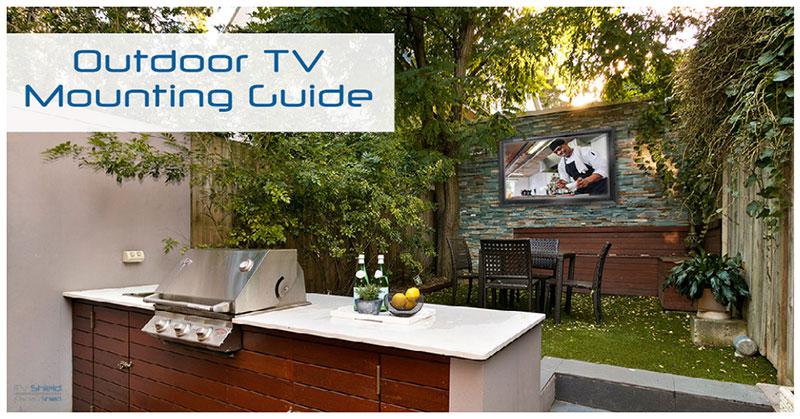 Outdoor TV Mounting for an Outdoor TV Enclosure Made Easy
The cost-savings, impact resistance, and ability to protect additional tech like an Apple TV or Roku in an outdoor TV enclosure make it a no-brainer solution for putting your TV outside. The next step if you want to put a TV and outdoor TV enclosure in your backyard or outside at your business is to consider where you'll be installing it and what mount will work for your setup.
Outdoor TV mounting options are expansive. When you stop to look at your backyard, there are probably several possible optimal locations to put your TV. You might be surprised that you won't be limited to placing it on a wall or hanging it from a ceiling. Similarly, there are often extensive possibilities for placement if you're installing your outdoor TV solution at a business. Below are some planning, mount, and installation suggestions to guide you through the process.
Outdoor TV Enclosure Mounting Steps
Ready to start planning your outdoor TV setup? Follow these steps.
1) Decide where you would like to place your TV (wall, ceiling, pergola, pole mount, etc.). There is more information later in this post to help you with this decision.
2) Take diagonal measurements of your TV and enclosure. Be sure your TV and enclosure will fit together correctly. Now also measure the space where you want to place your enclosure and be sure it is the right size.
3) Decide what mount you want to use. Various options are available such as flat, tilt, or full motion mounts. Identify the weight of your TV and of your enclosure to be sure the mount you choose will have enough strength.
Important Outdoor TV Mounting Considerations for Enclosures
When mounting your weatherproof TV enclosure outside, you'll want to decide where and how you're going to mount it….
Are you going to mount the TV mount on a building, a freestanding pole, or structure like a pergola? Or will you recess your TV enclosure?
Below are some examples of these different mounting methods to help you determine how you'll install your outdoor TV case or weatherproof digital display enclosure at your home or business.
Building mounted outdoor TV enclosure –
Below are some building-mounted weatherproof TV enclosure photos. Sometimes the TVs may be mounted on walls or sometimes hanging from a ceiling. Typically, these installs utilize flat, tilt, or full motion mounts. Whether outdoor TV enclosures are installed in residential backyards, at restaurants, at zoos, at schools or elsewhere, mounting them on walls and ceilings can be a very aesthetic and ideal solution.
Freestanding structure mounted outdoor TV enclosure –
Freestanding mount applications might include solutions like pergolas or poles. Flat, tilt, full motion, or ceiling mounts are commonly utilized for pergolas. The images below show some inspiring ideas. Placing your TV in creative locations is a great way to create a fun and unique outdoor living vibe.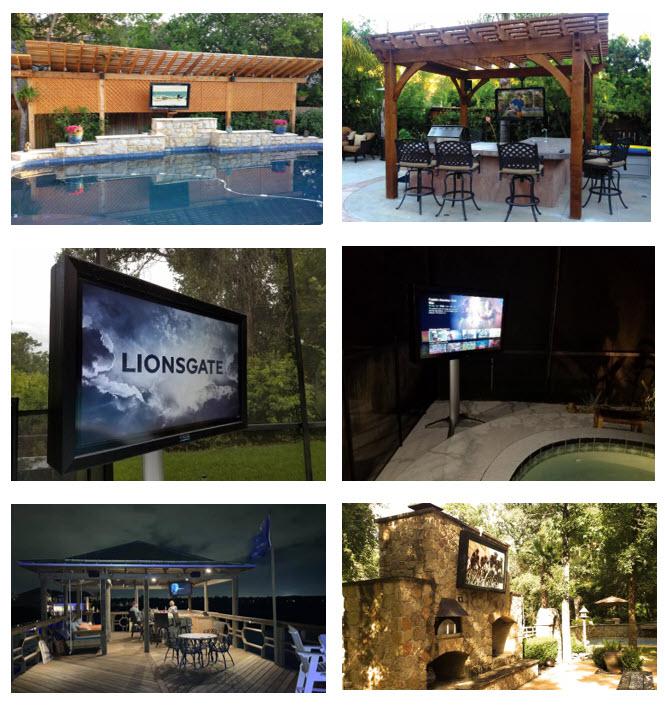 Recessed outdoor TV enclosures –

Depending on your application, you may choose to create your own recessed TV enclosure solution. Protective TV enclosures can be recessed into walls, trucks, and more. For food truck applications, this is a customized process that can vary. Many times, the enclosures are inset into the truck without using a mount and then sealed inside. Most times if you're recessing into a wall, a flat mount is a good way to go. Recessing in general can be a little more involved, so it may be recommended to work with a professional installer or engineer.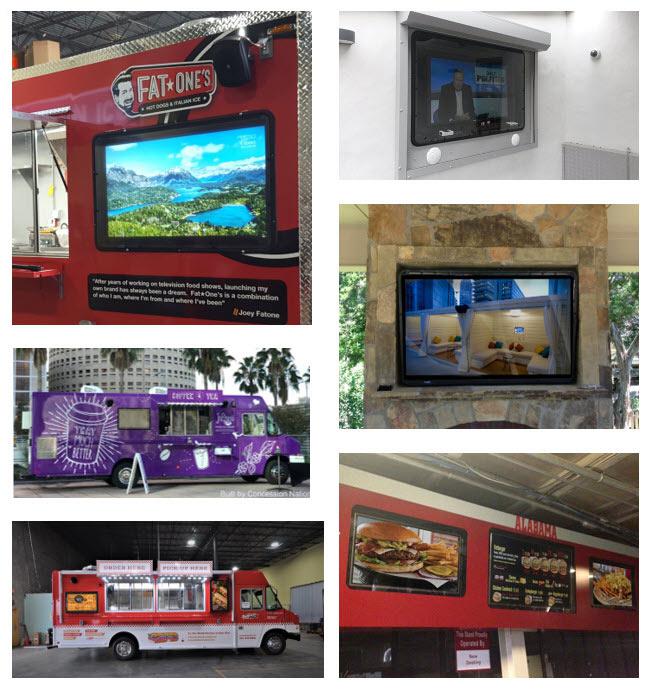 What type of mount will you need (flat, tilt, full motion, ceiling, cart, or a combination)?
As you may have guessed from the various outdoor TV enclosure installation possibilities, certain TV mounts work best for different installs. Make sure to choose a sturdy outdoor mount that is made to hold the appropriate weight of your TV and enclosure and is built to withstand weather and outdoor threats. Typically, enclosure product pages will list enclosure weights on the product page in the specs area. Below are different types of mounts and carts made for outdoor conditions to choose from for your outdoor TV case application.



If you've made it this far, you should have a good idea where you want to install your outdoor TV and what weatherproof TV enclosure and mount you need. That said, happy shopping and enjoy your outdoor TV setup!