How to Mount an Outdoor TV Made Easy
The cost-savings, impact resistance, and ability to protect additional tech like an Apple TV or Roku in an outdoor TV enclosure make it a no-brainer solution for putting your TV outside. The next step if you want to put a TV and outdoor TV enclosure in your backyard or outside at your business is to consider where you'll be installing it and what mount will work for your setup.
Outdoor TV mounting options are expansive. When you stop to look at your backyard or indoor or outdoor space if you are a business, there are probably several possible optimal locations to put your TV. You might be surprised that you won't be limited to placing it on a wall or hanging it from a ceiling. Similarly, there are often extensive possibilities for placement if you're installing your outdoor TV solution at a business. Below are some planning, mount, and installation suggestions to guide you through the process.
Article Table of Contents:
Outdoor TV Mounting - Getting Started Steps
Important Outdoor TV Mounting Considerations
How to Mount Outdoor TV: 3 Methods
Put an Outdoor TV Cabinet Anywhere Outside with Pole Mounts
Install a TV Outside: Outdoor TV Mounting Steps
Outdoor TV Mounting - Getting Started Steps
Ready to start planning your outdoor TV setup? The processes for mounting a TV or TV enclosure are different in some ways but the same in many aspects. The following steps are for mounting an outdoor TV or TV enclosure.
1) Decide placement and method of installation. So, decide where you would like to place your TV in your space such as which wall, over the flower bed, directly by the pool, near or on a cabana. Do you want it on the patio near the door right when you walk out or across the yard in a different entertainment area? Decide where and then decide what you will mount the TV to (wall, ceiling, pergola, pole mount, etc.). There is more information and there are examples later in this post to help you with make decisions.
2) Be sure you measure and plan sizes correctly. For a TV or enclosure, measure the space where you want to place your TV and be sure the TV or enclosure is the right size to fit that area. If you're using an enclosure which is recommended in most outdoor conditions, take diagonal measurements of your TV before you decide what size enclosure to put it in. Or if you're buying a TV, make sure the size will fit in the enclosure you have or plan to purchase. So to sum it up... be sure the TV will fit inside the enclosure and the enclosure will fit your outdoor placement.
3) Decide what mount you want to use. Various options are available such as flat, tilt, or full motion mounts. Identify the weight of your TV and of your enclosure to be sure the mount you choose will have enough strength.
The following portion of this article helps with these steps. Scroll further down to get to specific install steps.
Important Outdoor TV Mounting Considerations
When mounting your weatherproof TV enclosure outside, you'll want to decide where and how you're going to mount it….
Are you going to mount the TV mount on a building, a freestanding pole, or structure like a pergola? Or will you recess your TV enclosure?
How to Mount Outdoor TV: 3 Methods
Below are some examples of these different mounting methods to help you determine how you'll install your outdoor TV case or weatherproof digital display enclosure at your home or business.
1) Building Mounted
Below are some building-mounted weatherproof TV enclosure photos. Sometimes the TVs may be mounted on walls or sometimes hanging from a ceiling. Typically, these installs utilize flat, tilt, or full motion mounts. Whether outdoor TV enclosures are installed in residential backyards, at restaurants, at zoos, at schools or elsewhere, mounting them on walls and ceilings can be a very aesthetic and ideal solution.
2) Freestanding Structure Mounted
Freestanding mount applications might include solutions like pergolas, overhangs, or poles. Flat, tilt, full motion, or ceiling mounts are commonly utilized for pergolas. The images below show some inspiring ideas. Placing your TV in creative locations is a great way to create a fun and unique outdoor living vibe.
It's easy to take modern technology and luxuries for granted. So, when you stop to consider it, how exciting is it that we live in a time when we can enjoy not only watching TV shows and movies at our homes, but that we can also watch them outside on our patios? Isn't it mind-blowing as well that protective TV and display enclosures enable digital signage usage in practically limitless outdoor and harsh environments?
But like anything else, these amazing weatherproof TV and digital signage luxuries are best enjoyed when installed in the most optimal ways and locations. Mounting your outdoor TV cabinet incorrectly (such as in a less than ideal location) is like leaving a red sock in with your load of white laundry. We all know how that goes… the results just aren't ideal! With that in mind, below are some important outdoor TV mounting tips for placing your TV in the best location.
Put an Outdoor TV Cabinet Anywhere Outside with Pole Mounts...
Use Do-It-Yourself Pole Mounts:
Do you find yourself scoping out locations for putting a TV outside but feeling limited to only walls or ceilings? Don't forget that you could achieve placing your TV just about anywhere outside at a reasonable cost with a freestanding pole mount solution (some people refer to them as outdoor TV ground mounts).
Methods:
We've seen customers use an indoor TV cart or 4x4 wood posts to mount their outdoor TV cabinets in different places on their patio or in their yard. In the photos above, the wheels were removed from the indoor aluminum TV cart and the base feet were drilled into the patio flooring. Keep in mind, if you use a cart solution it needs to be weatherproof, so you'll want to use an aluminum cart. You could also make sure it's powder coated or apply Rust-Oleum. Otherwise the cart will not stand up to outdoor elements and would likely rust.
Streaming Media:
Is it possible to stream media to TVs that are pole mounted on the patio or in the yard? The answer to that question is… yes! If you have Wi-Fi, you'll be able to set up your TV on a pole mount with your favorite devices like Roku, Amazon Fire Stick, Apple TV, etc. Check out this Go Wireless for a Great Outdoor TV Viewing Experience blog post for more information.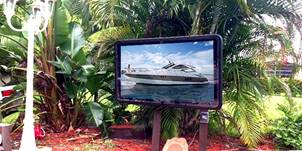 Single Stud Wall Plate TV Mounts:
Single Stud Wall Plate TV mounts can be very helpful for mounting outdoor TV enclosures to smaller surfaces such as carts, poles, pergolas or other locations. As you can see in the images below, a single stud wall mount has a smaller wall plate (base) than a regular mount. Typically, single stud wall plate TV mounts or TV enclosure mounts are a variation of full motion mounts and they have one arm that extends out from the base (rather than two arms). These types of mounts are ideal for use with pergolas, single posts, or other outdoor installations with limited wall plate mounting surface areas. Always make sure to account for the weight of the enclosure and the weight of the TV when confirming if mounts will work for your application.
| | |
| --- | --- |
| Single Stud Wall Plate Mount: | Large Wall Plate Mount: |
Consider the Optimal Location and Avoid Glare:
We've established that you can utilize a do-it-yourself pole mount solution to place your outdoor TV enclosure anywhere – yay! However, be mindful to utilize best practices to install your outdoor TV enclosure in order to avoid clarity or glare issues. Location, the brightness of the TV, the angle at which the TV is installed and other factors can make or break the usability of you outdoor TV setup. Learn more in the post, Nine Ways to Reduce Glare on Your Outdoor TV Cabinet.
So, there you have it. Don't let your wall or ceiling space limit your outdoor TV viewing experience when there are great alternatives like pole-mounting.
3) Recessed Outdoor TV and TV Enclosures Mounting Option
Depending on your application, you may choose to create your own recessed TV enclosure solution. Protective TV enclosures can be recessed into walls, trucks, and more. For food truck applications, this is a customized process that can vary. Many times, the enclosures are inset into the truck without using a mount and then sealed inside. Most times if you're recessing into a wall, a flat mount is a good way to go. Recessing in general can be a little more involved, so it may be recommended to work with a professional installer or engineer.
What type of mount will you need (flat, tilt, full motion, ceiling, cart, or a combination)?
As you may have guessed from the various outdoor TV enclosure installation possibilities, certain TV mounts work best for different installs. Make sure to choose a sturdy outdoor mount that is made to hold the appropriate weight of your TV and enclosure and is built to withstand weather and outdoor threats. Typically, enclosure product pages will list enclosure weights on the product page in the specs area. Below are different types of mounts and carts made for outdoor conditions to choose from for your outdoor TV case application.
Install a TV Outside: Outdoor TV Mounting Steps
It is important to note that the details of installation for different brands and kinds of TVs and TV enclosures will vary. The installation steps below are a good general guide and will help you know what to expect for most TVs and enclosures. However, always refer to the manufacturer's installation guide and videos. Keep in mind as well that you can always enlist a handyman or install service if that is your preference.
What You'll Need:

* Many of the following supplies may come with your TV or enclosure, but some are household tools.
Check TV and enclosures owner's manual for any needed supplies
Your TV
Enclosure
Bracket or bracket arms
Appropriate anchoring system
Level
Writing utensil
Hammer or rubber mallet
Wrench or socket
Lag bolts
Outdoor TV and TV Enclosure Mounting Steps
1) Prepare your TV and/or enclosure
Some enclosures come with brackets inside and some don't. If you're installing an enclosure (which is usually ideal for outdoor TV protection), make sure your TV is appropriately mounted inside the enclosure. TV placement within enclosures may vary, so check your product's owner's manual to be sure you're good to go.
Make sure bracket arms or a bracket is secure to the back of your TV or TV enclosure. Later in the process when you're ready to hang your TV, you'll need to attach the bracket or bracket arms on the back of your TV or enclosure to the bracket you'll place on the wall or other surface area where you'll be putting your TV.
2) Choose install placement
Assuming you have selected a wall, pole, pergola, or some other surface to mount your TV, choose the placement of the TV/TV enclosure on that surface. How high or low will you mount it? Decide where you want to place the mounting bracket or bracket arms.
3) Drill holes
Using a writing utensil, mark the holes where you will affix the bracket to the wall. It may be helpful to use a level to make sure your TV doesn't end up crooked. Make certain the wall or surface area you mount the bracket or bracket arms to is deep enough to secure the anchors and screws without poking through the other side of the wall.
4) Install the anchors
Use a rubber mallet or hammer to push the anchors in the wall or surface area. Don't use too much force so you won't risk cracking the surface area.
5) Mount the bracket or bracket arms
The majority of wall brackets use a bolt-mounting system for added weight bearing and sturdiness. Use a wrench or socket to secure the mounting bracket or bracket arms using the appropriate anchoring system and/or lag bolts.
6) Manage your cables
This is often a good time to get your cables set up. It is often easier to do this before the TV is in the way. Cables may include the power strip or cables running to devices like Roku sticks or Apple TV. To avoid any potential hazards or danger, remember any cables you use should be weatherproof.
7) Mount your TV
Congratulations! You're almost done. At this point your wall or surface area bracket or bracket arms should be ready as well as your TV or enclosure back bracket. So, now simply secure your TV or enclosure bracket to the wall bracket. Depending on your product, you may need added nuts or bolts, so always refer to your product's manual through the process so you don't miss anything important.
If you've made it this far, you should have a good idea where you want to install your outdoor TV and what weatherproof TV enclosure and mount you need. That said, happy shopping and enjoy your outdoor TV setup!
This article was last updated on 2/2/22
---
More Relative Outdoor TV Cabinet Articles:

Why an Outdoor TV Cabinet is Better Than a Weatherproof TV >

Go Wireless for a Great Outdoor TV Viewing Experience >
---