Building Your Outdoor Cabinet
The American backyard – it's the place to unwind, relax, watch the kids grow, and entertain friends. For many of us, our backyard is an extension of our living space. It's often the hub of the home. Whether we want to watch the game whilst enjoying a beer with pals, have a home-styled movie experience, or simply a chance to get the kids in the fresh air whilst watching Nickelodeon on repeat, we're faced with a problem: TV's and the outdoors don't mix too well.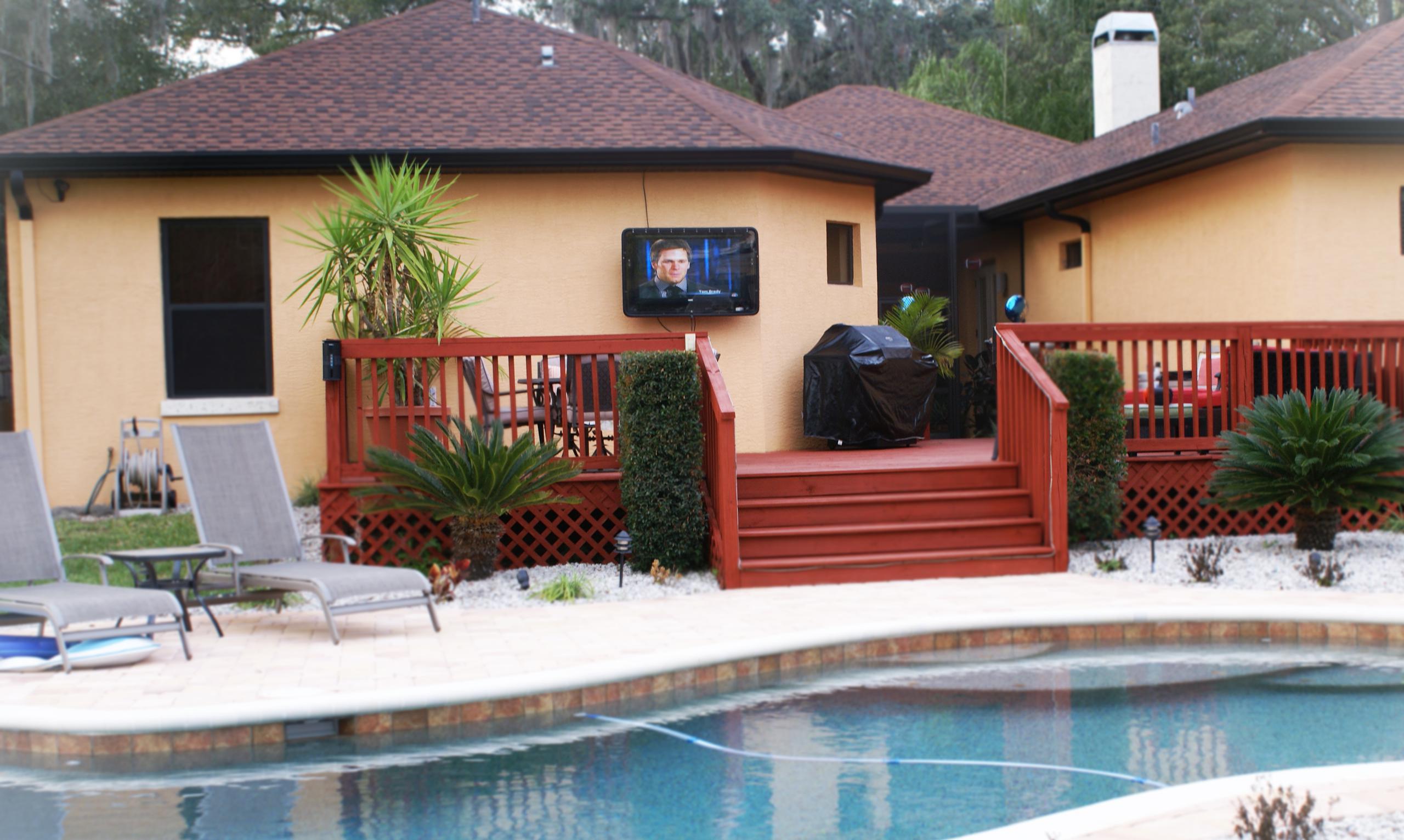 You could turn your attention (and wallet) to an all-in-one outdoor TV. However, we're really not confident you're getting the best bang for your buck. The starting price for an outdoor TV is already in the thousands. For a middle of the road offering, you're looking at comfortably over $4k. That's a lot of money, when you could build your own cheap outdoor TV.
Outdoor Television Problems
An all-in-one solution has you in its grasp because it's easy to feel overwhelmed by the problems of an outdoor TV. Let's have a quick look at the two main problems an outdoor TV cabinet needs to solve.
Weather: Heat, sun, humidity, and cold. Even those living in the more arid states aren't immune from a good old downpour. Electrics and weather aren't best pals. An outdoor TV cabinet needs insulation, airflow, waterproofing and more.
Security: Even the most basic flat screen TVs are decent bits of kit. They need protecting from thieves, but they also need protecting from the local wildlife. Whether you're in the Great Smoky Mountains and have mischievous bears after a good scratching post, or a raccoon, or an impish gecko – TV's don't like being tampered with.
A specific outdoor TV will solve these problems but come at a cost. Therefore, your mind will turn to trying to build your own cheap outdoor TV. This makes great sense, but there are much easier ways than spending every Sunday afternoon cussing when things don't quite work.
Building a TV Cabinet
Having looked at the cost of outdoor TVs and decided to make your own, you may start creating plans for waterproof boxes, and soon have a shopping list that will keep your local DIY store in business for a good while yet. However, one small mistake and you've got a leak, a condensation problem, and a busted TV.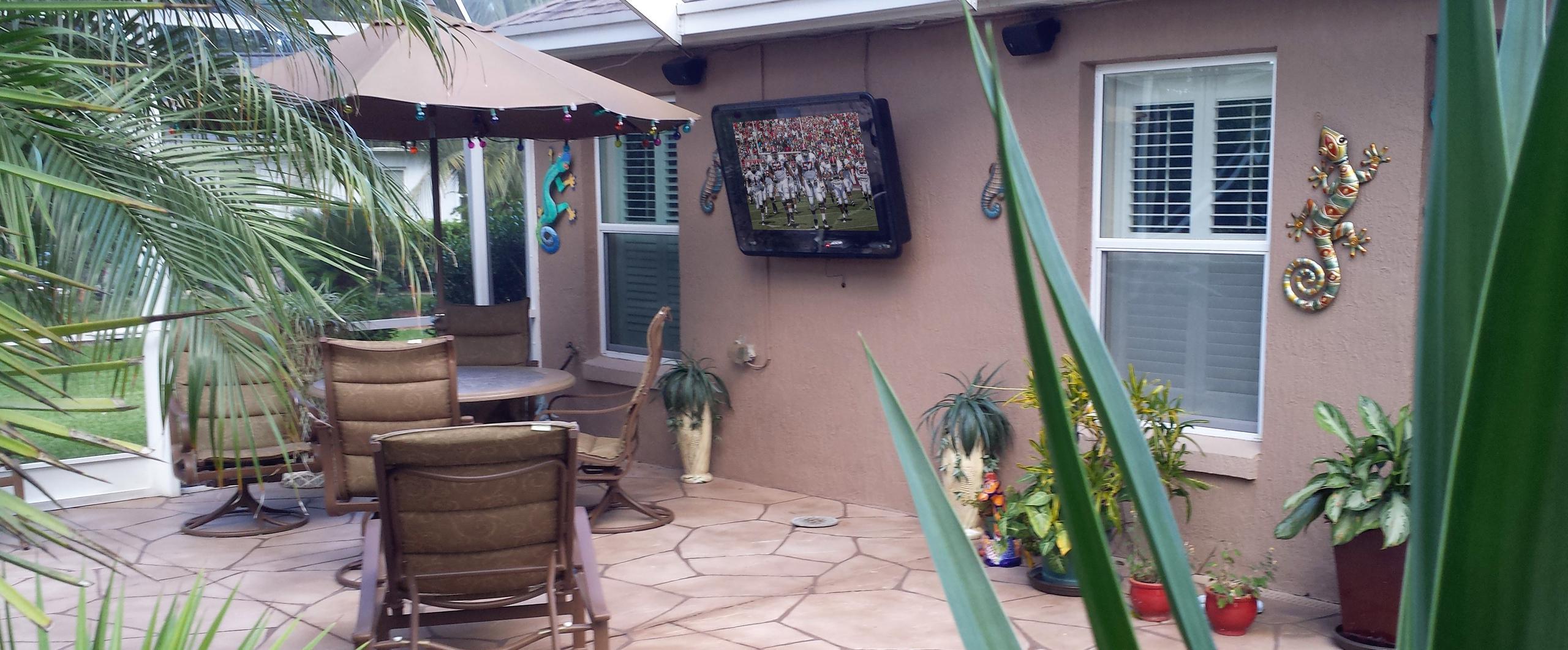 The Cheap Outdoor TV Solution
If Do-it-Yourself appeals, but you don't want to risk a costly mistake then our recommendation is to take an old flat screen TV and use a specially designed outdoor TV cabinet such as The TV Shield. Let's have a look at your options, and what you get to solve the three problems: weather-proofing, security, and cost.
Weather-Proofing:
The Outdoor TV: Outdoor TVs are designed to be outdoors, but not all are created equally. These are stand-alone items, and you will need to choose carefully to get the right weatherproofing option for your local climate. So, in Maine you're going to need to focus on protecting against rain, in Florida against humidity and wind, in Colorado against snow, and in Texas against heat. You must take care to choose the right add-ons such as a fan or a dehumidifier. That ramps up the cost.
The DIY Build: Here you're running into tricky ground. Making a weatherproof container for something electrical isn't for the amateur. You'll find yourself battling between making it water-tight and creating a humidity problem.
The TV Shield: The TV Shield has been engineered to cope with heat and cold. It uses a HMWPE High Molecular-Weight Polyethylene plastic case. It's weatherproof for most eventualities. If your area is going to prove particularly tough in terms of heat, humidity, or cold, then you can buy fans, dehumidifiers, and even thermostats for under $80.
Security
The Outdoor TV: Outdoor TVs vary enormously in terms of security features. Some will stop the local crook, but they won't stop the determined wildlife who don't care if they crack the screen.
The DIY Build: When building your own outdoor TV cabinet you usually have to compromise between security and weatherproofing. Making your homemade security more protected requires making it more airtight, and that's when electricity and condensation start to have a battle.
The TV Shield: We love wildlife, but we don't love it getting at your TV. The TV Shield is guaranteed not to crack and is shatterproof, making it safe from the wildlife. It also has two metal-chambered and keyed locks to prevent theft and vandalism. However, it doesn't compromise the view – if you want to have the cover screen up you can view the screen directly.




Cost
The Outdoor TV: An outdoor TV is going to cost you a hefty sum. A mid-range option costs around $4000, and you can easily pay upwards of $7000. Be warned, you may not even be getting weatherproofing.
The DIY Build: This can certainly be cheaper than the outdoor TV, but costs for materials mount up. By the time you've bought materials as well as mountings, and climate control elements, you can easily be spending upwards of $500. That's before taking your labor in to account.
The TV Shield: Cost is where The TV Shield makes a direct impact. Use your old TV and add The TV Shield, with costs starting at just $399. You get a weatherproofed, security-minded outdoor TV cabinet for a low cost, and without giving up your weekends to DIY.
The TV Shield is your cheap outdoor TV solution. Use an old flat screen if you have one, and if not, then even our complete outdoor TV kits start from under $800. You can live the American lifestyle, and enjoy a TV outdoors without breaking the bank, and without compromising on weatherproofing or security. So if you want to watch the New Year countdown at a home party in Florida, or Macy's 4 th July fireworks in Tennessee, or simply kick back and watch the Red Sox at home with a beer, we've got your TV covered.
Browse Our TV and Display Enclosures - Try Our Easy Product Selector>