Transform Your Outdoor Living Space with a The TV Shield Weatherproof TV Case
Overview
Specifications
Protects Against
Protection Notes


Quick Specs Overview:
Maximum INSIDE dimensions

Width (38.75")

Height (23.5")

Depth (4.31")



OUTSIDE dimensions

Width (42.25")

Height (27.125")

Depth (7")



WEIGHT:

27 LBS (28 LBs with one fan)
*Please measure the outside dimensions of your TV or Display, or the planned TV, and compare to the inside dimensions listed on this page
Installation Instructions:
Owner's Manual

Video: The TV Shield Installation Instructions

Enclosure Overview:
 Unit Protects 36-42" TV (up to a 43" with prior measuring)
The TV Shield® is a universal PLASMA, LCD or LED TV enclosure that provides comprehensive water, dust, theft & tamper protection for most residential and commercial TVs and Displays. These weatherproof TV enclosures preserve and protect the TV, and provide an ultra-clear view of the television or flat panel display when closed, and when opened offer a direct view of the TV or display. Weather-resistant, lightweight, durable, secure and affordable, The TV Shield was created by Florida residents and engineered for over two years to withstand hot summers and harsh rain in everything from tropical climates, to harsh cold climates (with heater). The unit is manufactured in the USA using a HMWPE High Molecular-Weight Polyethylene plastic case (an outdoor plastic built to last 20 years or more). The unit also features a guaranteed not to crack, thick, shatter-resistant front panel built out of ultra-clear grade Lexan® polycarbonate (the same material used in bullet proof glass, racecar and spacecraft windshields). The TV Shield is secured with two metal chambered and keyed locks which prevent theft, tampering and vandalism of your television.



The TV Shield is also available paired with a TV in a complete outdoor TV kit. Our customers favor The TV Shield for TV protection over other TV cabinets and expensive outdoor TVs due to its low cost, install friendly design, durability, water-resistance and security. Grab an outdoor TV enclosure today for your patio by the pool, the porch, your balcony, or even your business.

PEC enclosures are currently used in over 38,000 locations in 53 countries

!



Features:


New internal mounting system provides additional rigidity, reduces installation time and requires no drilling


Entire rainproof unit is sealed to defend TV against moisture intrusion and water damage, using our ExactSeal sealing system


Thermostatically controlled 36CFM, 115V filtered fan system


Protective front panel props open easily for a direct view of TV


Shatter-resistant front panel to defend the screen


Dual high strength metal, chambered key lock system to protect your investment


Windproof back housing manufactured with outdoor plastics that fortifies the TV or display against impact


Two louvered vents with bug and moisture screen that prevent heat buildup and bug intrusion which could damage the monitor


Rounded corners for child safety and hazard prevention in institutional environments


Lightweight and easy to install


Universal design that works with any standard VESA mount


The TV Shield is a unique and patent pending design


PEC units are MADE IN THE USA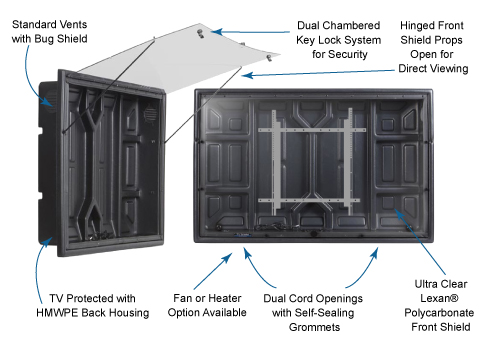 ---
Below we have a description of each product and why we chose it for this combo kit:
 

1. The TV Shield 36-43"

 

The TV Shield 30-40"

 

 

This model of The TV Shield is designed for 36-42" & 43" inch digital displays and televisions. These weatherproof enclosures provide water, rain and impact protection for your LCD, LED or Plasma displays and televisions. Scroll to the bottom of the page for full a description of The TV Shield.

 

2. Adjustable Tilting & Swivel Wall Mount




This high-quality, adjustable, universal full-motion TV Mount is designed for TVs from 30 up to 65 inches. It holds up to 143 lbs and is UL Listed. Enjoy free shipping and a great value!

 

Distance to Wall 2.7-25 inch (69-635mm)
Universal Design
Max VESA compatible 600x400
Includes manual and all hardware

Tilt: -5°/+15°
Swivel: 0°/+180°
VESA Compatible: Yes
Universal Mount: Yes
Cable Management: Yes
Maximum Load: 143 LB
TV Size: 30"-65"
Main Material: Cold Steel
Mount Type: Wall 

 

 

3. Fan Cooling Package




The recessed fan cooling system is built to continually filter hot air out of the unit pulling fresh cool air in and creating an air pocket between the screen of the TV or display and the clear front panel of the unit. The fan power cord has a built-in thermostatic control which turns the fan on at 88 degrees and off at 78 degrees to ensure that your outdoor display case stays at the proper temperature.


 

 

 

 
Compare the outside dimensions of your TV or display with dimensions below:
 Unit Protects 36-42" TV (up to a 43" with prior measuring)
Maximum INSIDE dimensions

Width (38.75")

Height (23.5")

Depth (4.31")
OUTSIDE dimensions

Width (42.25")

Height (27.125")

Depth (7")



WEIGHT: 27 LBS (28 LBs with one fan)
*Please measure the outside dimensions of your TV, or the planned TV, and compare to the inside dimensions listed on this page.
Details:
.177 Inch thick, ultra-clear grade shatter resistant Lexan® polycarbonate front shield
.250 Inch thick HMWPE High Molecular-weight Polyethylene plastic back housing, manufactured with outdoor plastic
Two openings for cords and wiring with self-sealing grommets
Two high strength, metal chambered and keyed locks
Two louvered vents with bug screen (upgradeable for wash down facilities or unique environments)
Proprietary "prop arm" system (one in each top corner) to keep shield open for a direct view of TV
Protects Displays, Monitors and TVs from everything in any environment:
Water (Rain, pool splashes, sprinklers, wash downs)

Moisture (Condensation, dew, steam, humidity, dampness)

Dust (Grime build up)

Tampering (Burglary, theft, vandalism, attempted destruction of product)

Pests (Bugs, insects)

High impact (Storms, branches, baseballs, flying objects)

Extreme temperatures (Hot and cold)

Sun 
Other things you should know:
This protective TV case is not designed to be water-submerged

Thermostatic fans that click on at 88° and off at 78° are available for all enclosures, and included with some models and kits

Thermostatic heaters are available upon request (turns on at 41° F and turns off at 47°)



* Protective Enclosures Company, LLC will not be held responsible for orders placed for TV's or Displays over the listed specifications, and although we will accept a return, there will be a 10% restocking fee assessed, as well as the customer will be responsible for actual shipping and return shipping of the unit. If you plan to use enclosure outside of the recommended and listed specifications, please make sure it will work for you before you order. By purchasing, you acknowledge that you have read and accept these terms and will hold harmless, PEC and all subsidiaries, business partners and officers.
mount, fan, and TV shield

The TV shield has done everything it says it should do but not sure about the fan. Never seems to run or turn on. Is it heat activated?

2nd The TV Shield I have purchased! Great invention!!!! Saves MONEY!

My wife and I have purchased two The TV Shields in the past 2 months. One for a 26 Inch TV that we use on our boat and one for a 42" TV that we use at home-outdoors. That being said, we are very familiar with the product and would like to share our experience. I read the other reviews and cannot understand the one negative review. Did he buy the same The TV Shield that we bought? I work with plastics and am very familiar with plastics manufacturing and this product canNOT be made at home or on a DIY basis, especially for 1/3 of the price as the one reviewer mentioned. If you do try, it will be crude and not have the same features nor look anywhere as nice. That is preposterous actually knowing how much the molds cost and what goes into making just the plastic back. I also know that to purchase just the LEXAN plastic for the front panel at a .25 thickness would cost over $100 US at least, before all the work that goes into cutting, CNC the holes, assembly and all of the components that make it so great and able to open/close, lock etc. So, that being said. We have purchased 2 The TV Shields in two different sizes. The second one was slightly improved and better than the first, it looks like they are improving the product in small ways, although the first one we purchased was great and we thought looked and worked just fine; we did notice subtle improvements. Everyone that has seen it at our house and boat, has liked it. Several of our friends did not even know something like this existed and I am sure will be customers soon. CHEAP compared to the other options on the market, much cheaper than an outdoor TV as other reviewers have mentioned. If you are looking to have a TV outside or to protect a TV, this is definitely the best and most affordable option. More times than not, we are dissapointed with purchases or the customer service we receive (especially when shopping online), when purchasing the tv shield, we have been highly satisfied with both the product, but also the customer service we have received when speaking with the seller over the phone multiple times with questions. Last but not least, they have a website that they sell directly from and has a TON of information on the product, videos of it in action (very helpful for us) and dimensions of the individual sizes etc.

Best TV Enclosure on earth. Happy Customer. 5 STARS!

Wanted a TV outside for years. Couldn't find anything affordable. Found The TV SHIELD. Almost thought it was too good to be true as the price was 1/3 of other full tv enclosures on google and 1/10 of an outdoor tv in a 46 inch size. Arrived 3 days after order. Called company, they answered and answered all my questions about what tv would fit. Mounted easily in about an hour. GREAT customer service. GREAT product. GREAT BUY! Very happy. Would recommend to a friend. They could charge more for it.