Transform Your Outdoor Living Space with a The TV Shield Weatherproof TV Case
Overview
Specifications
Protects Against
Protection Notes

Quick Specs Overview:
Maximum INSIDE dimensions Width (44.8") Height (27.5") Depth (4.10")

OUTSIDE dimensions Width (49.50") Height (31.35") Depth (6.80")

WEIGHT: 39 LBS
*Please measure the outside dimensions of your TV or Display, or the planned TV, and compare to the inside dimensions listed on this page
Installation Instructions:
Video: The TV Shield Installation Instructions
Enclosure Overview:
MEDIUM Unit Protects 44-50" TV's
The TV Shield® is a universal PLASMA, LCD or LED TV enclosure that provides comprehensive water, dust, theft & tamper protection for most residential and commercial TVs and Displays. These weatherproof TV enclosures preserve and protect the TV, and provide an ultra-clear view of the television or flat panel display when closed, and when opened offer a direct view of the TV or display. Weather-resistant, lightweight, durable, secure and affordable, The TV Shield was created by Florida residents and engineered for over two years to withstand hot summers and harsh rain in everything from tropical climates, to harsh cold climates (with heater). The unit is manufactured in the USA using a HMWPE High Molecular-Weight Polyethylene plastic case (an outdoor plastic built to last 20 years or more). The unit also features a guaranteed not to crack, thick, shatter-resistant front panel built out of ultra-clear grade Lexan® polycarbonate (the same material used in bullet proof glass, racecar and spacecraft windshields). The TV Shield is secured with two metal chambered and keyed locks which prevent theft, tampering and vandalism of your television.

The TV Shield is also available paired with a TV in a complete outdoor TV kit. Our customers favor The TV Shield for TV protection over other TV cabinets and expensive outdoor TVs due to its low cost, install friendly design, durability, water-resistance and security. Grab an outdoor TV enclosure today for your patio by the pool, the porch, your balcony, or even your business.

PEC enclosures are currently used in over 31,000 locations in 44 countries

!


Features:
New internal mounting system provides additional rigidity, reduces installation time and requires no drilling
Entire rainproof unit is sealed to defend TV against moisture intrusion and water damage, using our ExactSeal sealing system
Thermostatically controlled 36CFM, 115V filtered fan system included
Protective front panel props open easily for a direct view of TV
Shatter-resistant anti-glare front panel to defend the screen
Dual high strength metal, chambered key lock system to protect your investment
Windproof back housing manufactured with outdoor plastics that fortifies the TV or display against impact
Two louvered vents with bug and moisture screen that prevent heat buildup and bug intrusion which could damage the monitor
Rounded corners for child safety and hazard prevention in institutional environments
Lightweight and easy to install
Universal design that works with any standard VESA mount
The TV Shield is a unique and patented design
PEC units are MADE IN THE USA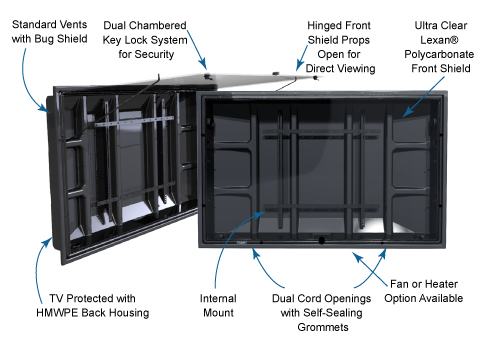 ---
Below we have a description of each product and why we chose it for this combo kit:
1. The TV Shield 44-50" AG

The TV Shield 30-40"

This model of The TV Shield is designed for 44-50" digital displays and televisions. These weatherproof enclosures provide water, rain and impact protection for your LCD, LED or Plasma displays and televisions. Scroll to the bottom of the page for full a description of The TV Shield.

2. Full Motion Wall Mount

The TV Shield heavy-duty full motion mount is designed for large TVs, flat panel displays, and enclosures from 36" - 65" and up to 154 lbs. With a tilt range of 0 to 12 degrees, you are able to minimize reflection or glare and achieve optimal placement for ease of viewing. This mount has a locking tilt mechanism to keep your display and enclosure at the desired angle. At less than 3" from the wall, this mount is one of the slimmest on the market.

Highlights and Features:

Heavyweight and heavy duty
Lock washers that prevent unwanted tilted down angle
A slim and optimal design (from back to front these mounts are less than three inches from the wall)
3. TCL 50" CLASS 5-SERIES 4K UHD QLED DOLBY VISION HDR SMART ROKU TV

Superior 4K HDR picture quality
Wide color powered by QLED technology
Contrast Control Zones™ technology maximizes contrast
HDR Pro Pack featuring Dolby Vision®
Thousands of streaming channels
Stream free TV, live news, sports, movies, and more
Easy Voice Control works with Siri, Alexa and Hey Google
Share videos, photos, and music from your Apple device using AirPlay
Simple, customizable home screen
AiPQ Engine™ technology intelligently enhances picture as you watch
Auto Game Mode for an optimized fast-response gaming experience
Variable Refresh Rate (VRR) provides seamless gameplay
AMD FreeSync™ brings the ultimate, artifact-free gaming experience
FullView edge-to-edge glass design
Integrated cable management makes your TV setup clean and clutter-free
Cord cutting made easy with smart features built-in
Advanced digital TV tuner with live TV channel guide
Easy-to-use remote with shortcuts to popular channels
Works seamlessly with Alto Sound Bars featuring Roku TV Ready™
Dual-band WiFi & Ethernet port
4 HDMI inputs (1 eARC)

A STELLAR VISUAL EXPERIENCE

Elevate your home viewing experience with cinema-inspired technologies that bring out every detail, produce accurate color, and deliver breathtaking contrast, all with incredible realism.

‌


QUANTUM DOT TECHNOLOGY

Experience vivid wide color and striking contrast, matching the format of Hollywood content creators.




LOCAL DIMMING WITH CONTRAST CONTROL ZONES™ TECHNOLOGY

Contrast is optimized across localized zones for striking differences between bright and dark areas of the image.




DOLBY VISION® & DOLBY ATMOS®

Dolby Vision delivers superior 4K HDR while Dolby Atmos provides immersive surround sound.




AiPQ ENGINE™ TECHNOLOGY

TCL's AiPQ Engine optimizes color, contrast, and stunning clarity for an unrivaled 4K HDR experience.




4K PICTURE RESOLUTION

Brilliant 4K resolution delivers stunning detail and a remarkable visual experience.




GAME STUDIO PLUS™

Arsenal of features let you enjoy the smoothest action and an optimized fast-response gaming experience.

QLED -

OVER A BILLION BRILLIANT COLORS

QLED lets you experience lifelike picture quality with vivid wide color and striking contrast.

DOLBY VISION -

IMMERSE YOURSELF IN EVERY DETAIL

Experience breathtaking realism with Dolby Vision, the premium high-dynamic range experience.

CONTRAST CONTROL ZONES -

CONTRAST, CONTROLLED.

Contrast is individually optimized across the image with up to 40 zones for striking contrast between bright and dark areas.

AIPQ ENGINE -

A SMART PICTURE THAT ADJUSTS AS YOU WATCH

TCL's AiPQ Engine is driven by machine-learning algorithms to give you the best-possible viewing experience with vibrant color, sharp clarity, and dramatic depth.

GAME STUDIO PLUS™ -

ALWAYS A PERFECT PLAYTHROUGH

TCL has a full arsenal of features that optimize big-screen gaming performance, so you have a competitive edge. Game Studio ensures cinema-quality graphics, powerful audio, smooth play, and near-instant responses—everything you need for immersive, next-level gaming.

DESIGN -

DESIGN THAT PERFORMS

Experience premium performance, even before you turn it on. Built-in cable management makes your TV setup clutter-free. Two position feet on 55" and larger models adjust to your home theater for easier placement.

ENTERTAINMENT AT YOUR FINGERTIPS

With Roku, America's #1 TV streaming platform, you'll enjoy an easy, lightning-fast experience and automatic updates so your TV gets even better over time.¹


CHOOSE HOW YOU WATCH

Watch your favorite entertainment however you choose, whether it's through a streaming service, cable or satellite subscription or free over-the-air channels. The possibilities are endless.²


POWERFUL CONTROL IN YOUR HANDS

Transform your smartphone into a Roku remote with voice control and the ability to browse or add new channels, and even enjoy TV audio on headphones connected to your mobile device for private listening. All with the free Roku mobile app.³


LET YOUR VOICE BE HEARD

Ask Alexa or Google Assistant to launch channels, search for entertainment, control your streaming, and more. You can also control your TV using the Apple Home app or Siri on your Apple devices.⁴



¹ Based on hours streamed—Hypothesis Group

² Payment required for some channels and content. Channels can change and vary by region.

³ Limitations apply to the mobile app. See support.roku.com for device compatibility information.

⁴ Apple, AirPlay, HomeKit, and Siri are trademarks of Apple, Inc., registered in the U.S. and other countries. Amazon, Alexa, Prime Video and all related logos are trademarks of Amazon.com, Inc. or its affiliates. Alexa enabled device is required to work with Alexa. Google and Google Home are trademarks of Google LLC. Third party features and services may be subject to change or removal without notice.





TCL Series - S555

Model

50S555

Screen Size

50"

Viewable Display Size

49.5"

Description

Premium Picture QLED HDR 4K TV

Features

Control Buttons

One Button

Multilingual On-Screen-Display

English, Spanish, French, German, Portuguese

Closed Caption

Yes

Parental Control (V-Chip)

Yes

Accessible Menu System (CVAA)

Yes

Sleep Timer

Yes

Easy Voice Control

Works with Siri, Alexa, and Hey Google

Live TV Pause from antenna (up to 30 minutes)

Yes

Audio Quality

Output Power

10W + 10W

Premium Audio

Dolby Atmos, Dolby Digital Plus

Connected TV Features

Smart Platform

Roku TV

Tuner Type

ATSC / NTSC / Clear QAM

Display

Panel Refresh

60 Hz

Panel Resolution

3840 x 2160

Resolution

UHD

Display Colors

1.07 billion

High Dynamic Range Format

Dolby Vision, HDR10, HDR10+, HLG

Connections & Networking

HDMI

4 Ports with HDMI 2.1, 1 port with eARC/ARC

Composite Audio/Video Input

1

Digital Optical Audio Output

1

Headphone Jack

1

RF Antenna Input

1

USB 2.0

1

USB File Format Compatibility

Video: MPEG4 Xvid, H.264, H.265, VC1, VP9
Audio: AAC,MP3, FLAC Photo: JPEG, PNG, BMP

Wireless Connection

802.11ac 2x2 Dual Band (support 2.4GHz & 5GHz)

Product & Package Information

Product Size (WxHxD) with Stand

43.8" x 27.2" x 11"

Product Size (WxHxD) without Stand

43.8" x 25.3" x 3"

Stand Separation Distance

36.1"

Product Weight with Stand (lbs)

24.9 lbs

Product Weight without Stand (lbs)

24.5 lbs

Package Size (WxHxD) (inches)

49.8" x 30.5" x 5.7"

Total Package Weight (lbs)

34.2 lbs

VESA Mounting Specifications

VESA Wall Mount Pattern

200mm x 200mm

Screw Size

M6 x 12

Top of VESA Mount to Top of TV Distance (inches)

10.1"

Side of VESA Mount to Side of TV Distance (inches)

18"

Bottom of VESA Mount to Bottom of TV Distance (inches)

7.2"

Base Stand Specifications

Screw Size (Qty)

M4 x 36 (4)

Accessories (Included)

Warranty Info / Quick Start Guide (QSG)

1 / 1 English

Remote Control

RC280

Remote Control Battery

Two "AAA"

Warranty

1 year limited warranty
4. Fan Cooling Package

The recessed fan cooling system is built to continually filter hot air out of the unit pulling fresh cool air in and creating an air pocket between the screen of the TV or display and the clear front panel of the unit. The fan power cord has a built-in thermostatic control which turns the fan on at 88 degrees and off at 78 degrees to ensure that your outdoor display case stays at the proper temperature.

5.Moisture Control Gel Case

We have included this because the moisture control gel case absorbs moisture from inside the enclosure. This is a protective measure and very worth purchasing for your TV investment and protection.

6. Cleaner & Polish Combo Kit

The TV Shield's & The Display Shield's front panels are made of ultra-clear polycarbonate. We feel that optimal viewing of your TV is going to be very important to you. Very simply this cleaner and polish kit helps keep the screen scratch free, smudge free and optically clear. The cleaner and clearer, the better your viewing experience will be. We highly recommend using this product. Also be sure to not use paper towels ever on your TV screen or The TV Shield screen as they generally are abrasive. Refer to your TV's instructions for optimal cleaning of your TV's screen. Do not use this cleaner or polish on your TV.
Compare the outside dimensions of your TV or display with dimensions below:
Unit Protects 44-50" TV (most 50")
Maximum INSIDE dimensions Width (44.8") Height (27.5") Depth (4.10")
OUTSIDE dimensions Width (49.50") Height (31.35") Depth (6.80")

WEIGHT: 39 LBS
*Please measure the outside dimensions of your TV, or the planned TV, and compare to the inside dimensions listed on this page.
Details:
.197 Inch thick, ANTI-GLARE shatter resistant Lexan® polycarbonate front shield
.250 Inch thick HMWPE High Molecular-weight Polyethylene plastic back housing, manufactured with outdoor plastic
Two openings for cords and wiring with self-sealing grommets
Two high strength, metal chambered and keyed locks
Two louvered vents with bug screen (upgradeable for wash down facilities or unique environments)
Proprietary "prop arm" system (one in each top corner) to keep shield open for a direct view of TV
Protects Displays, Monitors and TVs from everything in any environment:
Water (Rain, pool splashes, sprinklers, wash downs)

Moisture (Condensation, dew, steam, humidity, dampness)

Dust (Grime build up)

Tampering (Burglary, theft, vandalism, attempted destruction of product)

Pests (Bugs, insects)

High impact (Storms, branches, baseballs, flying objects)

Extreme temperatures (Hot and cold)

Sun
Other things you should know:
This protective TV case is not designed to be water-submerged

Thermostatic fans that click on at 88° and off at 78° are available for all enclosures, and included with some models and kits

Thermostatic heaters are available upon request (turns on at 41° F and turns off at 47°)

Graffiti like spray paint can be washed off of screen with special removal spray, and dry-erase markers are usable on the front panel

* Protective Enclosures Company, LLC will not be held responsible for orders placed for TV's or Displays over the listed specifications, and although we will accept a return, there will be a 10% restocking fee assessed, as well as the customer will be responsible for actual shipping and return shipping of the unit. If you plan to use enclosure outside of the recommended and listed specifications, please make sure it will work for you before you order. By purchasing, you acknowledge that you have read and accept these terms and will hold harmless, PEC and all subsidiaries, business partners and officers.