Posted by Emilyann Allen on 15th Oct 2019


Here are 7 Outdoor TV Enclosure Unique Halloween Décor Ideas You'll Love…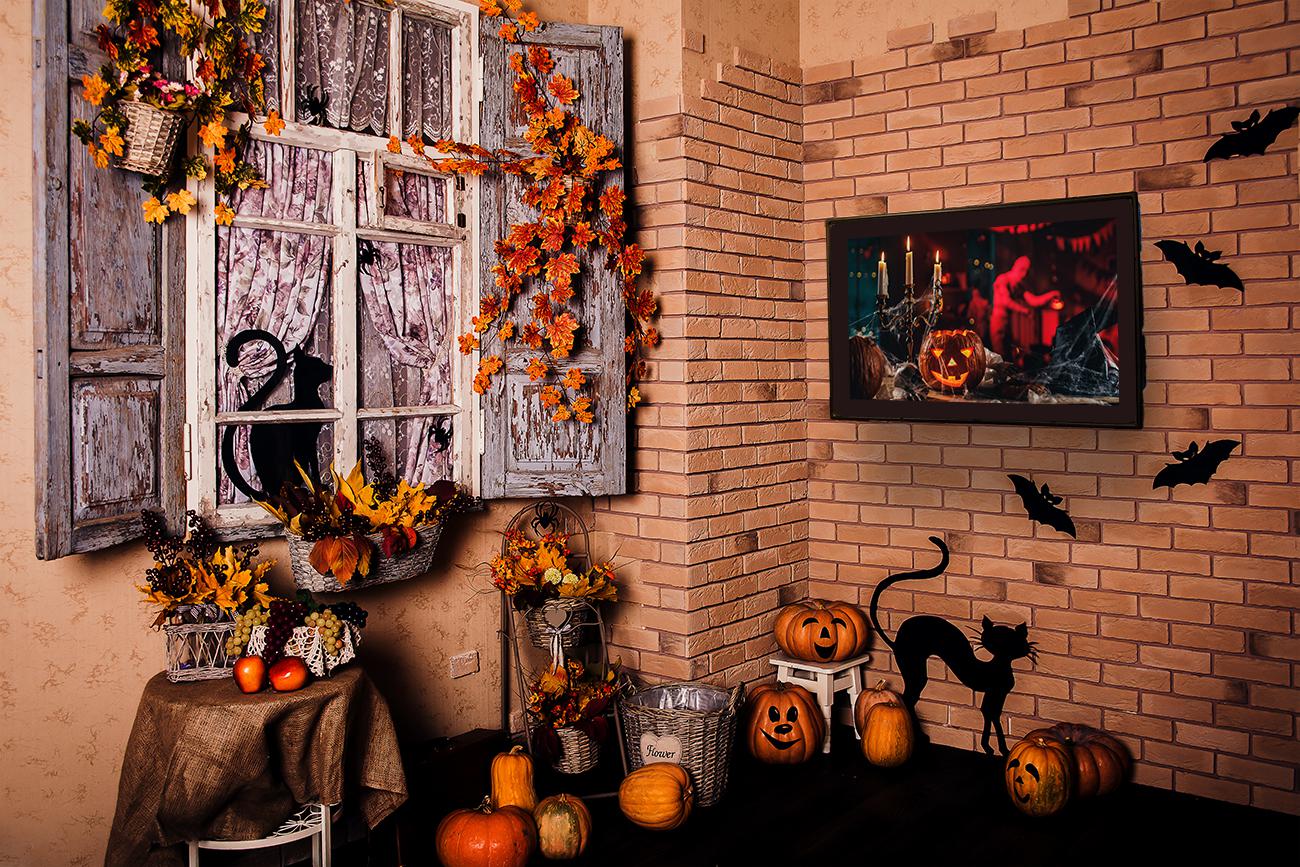 Are you one of those people that blows the witch off her broom every year with amazing, cutting-edge, Spooktacular Halloween decorations and Halloween parties? Everyone knows about fun Halloween party supplies like cobwebs, fog machines, and more. However, not everyone knows about the awesome ways outdoor TVs make killer Halloween décor and entertainment essentials! A TV paired with an outdoor TV enclosure for protection from weather, flying objects, and more is a wonderful investment for so much more than Halloween. It's great enough watching TV by the pool on lazy Saturdays or throwing amazing outdoor Super Bowl parties, but the fun outdoor TV cabinet Halloween ideas below really make outdoor living a whole new experience….


7 Fun Ways to Use an Outdoor TV Enclosure for Halloween:
1. Scary Movie Night is Spookier Outside –
So, you like scary movies? Imagine hosting scary movie night on Halloween – outside! Yikes! That's creepy. An outdoor TV enclosure allows you to leave your TV outside year-round which is especially fun at Halloween when you can throw scary movie parties in the creepy dark of the night. Throw in the cobwebs strung around the patio and you're good to go. Or maybe scary movies outside create a perfect October date night.
2. Horror Video Games –
Horror video games are all the rage. But how often have you heard of an outdoor scary video game night party??? Have you ever heard of it? No? Well, now you have. You can trailblaze this fun new Halloween party idea with your buddies. Halloween and horror video games can be scary enough on their own, but with an outdoor TV cabinet and TV in your back yard, you'll take the fun to a whole new level.
3. Spooky Scene It and TV Board Games –
Do you have a favorite movie or TV show that has a Scene It edition or accompanying board game? Pair them up and play outside this Halloween for added suspense and hair-raising fun. You could throw a Harry Potter Halloween party with Harry Potter Scene It. You could show the Walking Dead on your outdoor TV while you play The Walking Dead TV board game with your buddies or let Stranger Things play on your TV screen outside and encourage party guests to play the Stranger Things role playing game or card game . The list goes on.
4. Outdoor TV Entertainment for Kids –
Perhaps you need to keep your kiddos entertained during a Halloween party or you're just looking for something fun or unique to do in addition to trick-or-treating on Halloween. An outdoor viewing of a popular kids Halloween movie is a great option for your kids.
5. Support Your Halloween Decor Theme –
Consider playing scary movies, TV shows, or video loops on your outdoor TV to support the theme. Are you going all out decorating this year? Are you converting your house into a haunted house? You could blend in TV content with your wall decorations and create a more realistic or immersive spooky experience.
Imagine in the dark of night people walk onto your eerily silent back deck where they find thick cobwebs top to bottom across the walls and strung through the trees or perhaps your yard is decked out in zombie decorations. No doubt your guests will jump and scream when zombies start growling and appear through the webbing on your wall. They're just zombies on the TV in your outdoor TV enclosure, but with the right props and lighting, you could certainly create a memorable and creepy experience. Search YouTube for Halloween projection loops to find creepy content for your TV like this zombie loop and others.
6. Take Halloween Party Music and Dancing to a New Level –
Create a groovy good time by hosting a karaoke, Rock Band music video game, or Dance Dance Revolution Halloween party. Turn your back yard or pool house into a true party zone with guests singing their favorite tunes in costume.
7. Blow Trick-or-Treaters Away –
For you truly committed, take no prisoners, Halloween decorating enthusiasts out there – an outdoor TV will knock the socks of your trick-or-treaters. You could mount a TV on your front wall, but chances are you may be looking for a simpler solution. Fortunately, if you want a shortcut solution, outdoor TV enclosures can easily be pole mounted in your front yard. Once again, this would be a perfect opportunity to play scary movies or creepy video loops to support your unique Halloween décor and theme. You could also use the TV to show instructions for trick-or-treaters or live cast and spook them by talking to them through the TV when they approach the house. Of course, if you've created a neighborhood haunted house, an TV outside the front door could host an array of creepy greetings!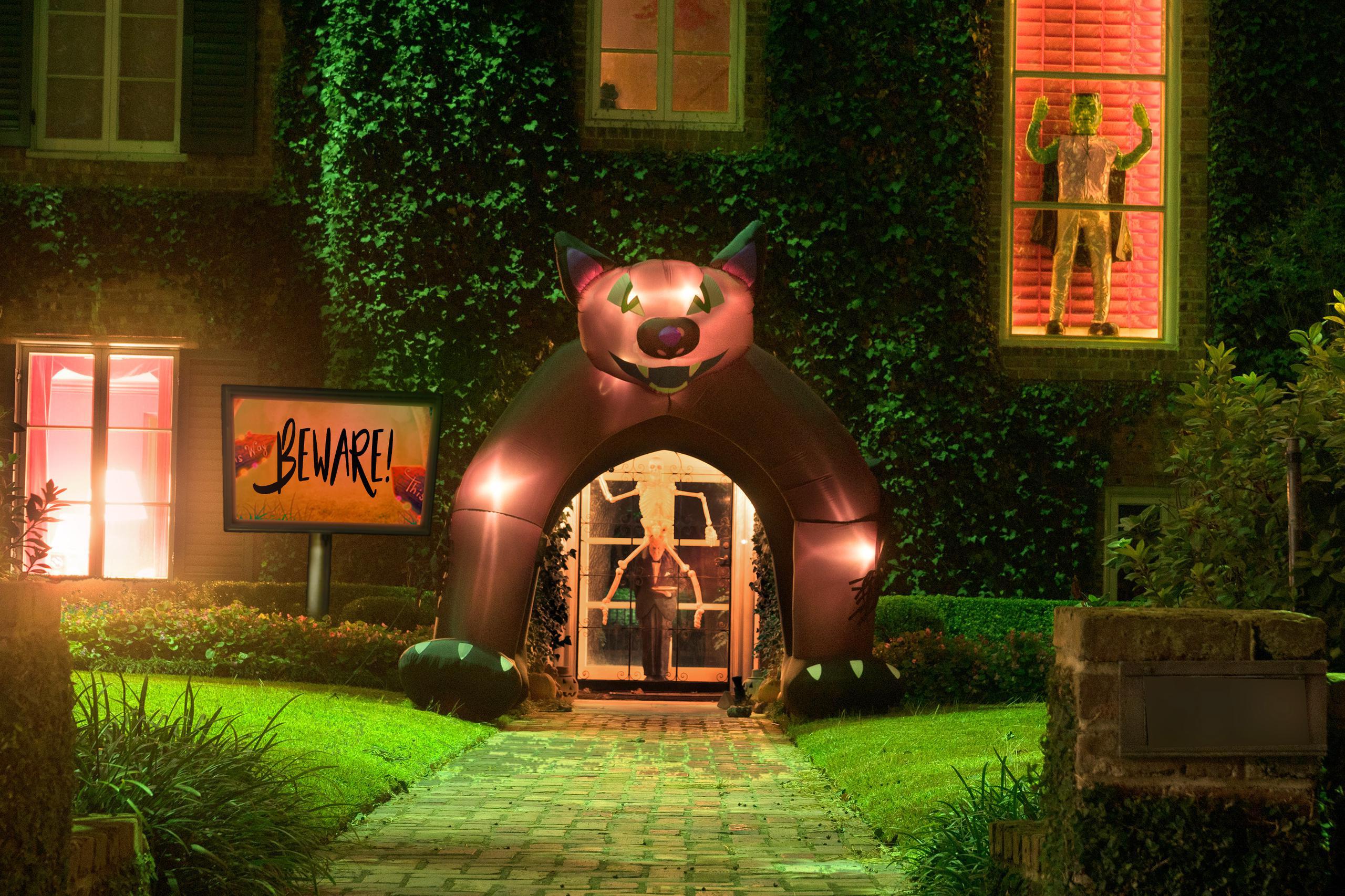 Happy Halloween and enjoy getting spooky this year with these fun outdoor TV ideas you didn't know you were missing out on.
Ready for an Outdoor TV Cabinet?
Discover The TV Shield: