PEC's The TV Shield, a Weatherproof TV Cabinet, was the Highlight of a Clemson Tiger Themed Party Barge Makeover on Animal Planet's Flipping Ships

The TV Shield, a Protective Enclosures Company (PEC) product, was a star component of the Clemson Tigers football themed party barge recently designed on Animal Planet's new show Flipping Ships. The series star, American singer, Edwin McCain, takes benched rusty old boats and makes them "quarterbacks," so to speak.
Just in time for the Clemson South Carolina game, Edwin and his team presented Will, a former Clemson Tigers player, with a revamped boat in the episode One Football Fantasy Party Barge, Ready to Rumble . The dream boat was complete with purple and orange upholstery, Tiger paw prints, football field carpet flooring, old stadium seats used as fishing chairs and more. The biggest touchdowns of the remodel design were the two TVs which connect to wireless devices. A scoreboard style oversized TV was installed attached to the top deck rails and another TV was installed on the side of the boat, allowing TV viewing for boat riders on the main deck or swimmers in the water. These TVs could not withstand the elements if they were not encased by PEC's The TV Shield outdoor TV enclosures. The TV Shield offers protection from water, heat, cold, moisture, dust, bugs, tampering, theft and potential accidental damage.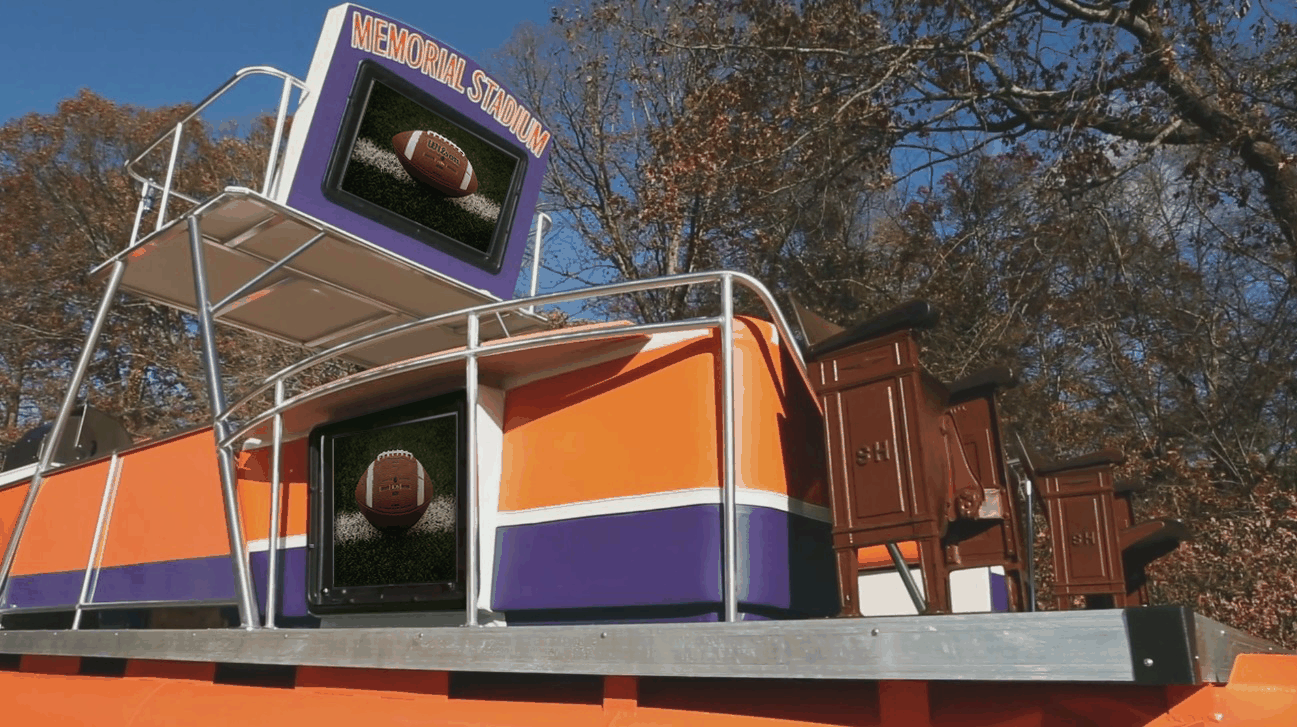 PEC's The TV Shield has also been featured on Lifetime Network's hit show Designing Spaces as well as HGTV's popular series Spontaneous Construction. In addition, these durable outdoor TV cases have been mentioned by various news organizations, some of which include Fox News and the Miami Herald. PEC has already announced that sales numbers have doubled over last year and the company expects even more business growth as summer and football season approach. The TV Shield is perfect for protecting TVs on boats, patios, and by pools so that families can watch their favorite shows and football games outside. PEC, CEO, Justin King, commented "Props to Edwin McCain and Flipping Ships for such an innovative The TV Shield install job. PEC is thrilled to see The TV Shield bringing Will and his family together for some summer fun."
About Protective Enclosures Company:
A+ rated with the BBB, Protective Enclosures Company (PEC) is a privately held, U.S. based manufacturer of affordable, lightweight, weatherproof and secure protective enclosures for TVs and digital signage. PEC's patent-pending The TV Shield ® and The Display Shield ® branded enclosures for can be found in 6,000+ locations in 15+ countries worldwide.
Press Contact:

Emilyann Girdner
Protective Enclosures Company
Marketing marketing(at)protectiveenclosures(dot)com
(407) 636-4482
* Photo credit: Screenshot from Flipping Ships Episode, Adapted by PEC.
* All PEC, The TV Shield & The Display Shield logos and product names are owned by PEC. Other company and product names may be trademarks of their respective owners, and PEC does not claim official endorsement of any named businesses.