Rated And Reviewed: The 6 Best Outdoor TV Enclosure Solutions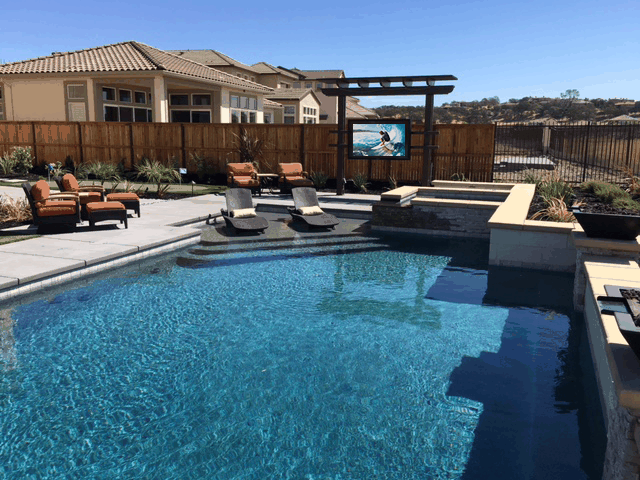 Adding a new TV to your backyard oasis or business can completely transform your space. Now, your next step is to protect your investment with an outdoor TV enclosure. Keeping out water, moisture, and debris will help you get more use from your new TV and ensure it will last for years to come.
Based on online reviews and feedback from consumers, below is a list of the best outdoor TV cabinets and solutions on the market so you can explore your options and make an informed decision. Let's go!
Quick Links: The Best Outdoor TV Enclosure and Solutions for 2020
Click the links listed below to jump ahead or keep scrolling so you don't miss a thing!
1. The TV Shield
Overall rating: 4.6 out of 5.0
Pros: Superior materials and protection, best value for homeowners
Cons: Doesn't accommodate TVs larger than 65 inches
Price Point: Starting at $399 + free shipping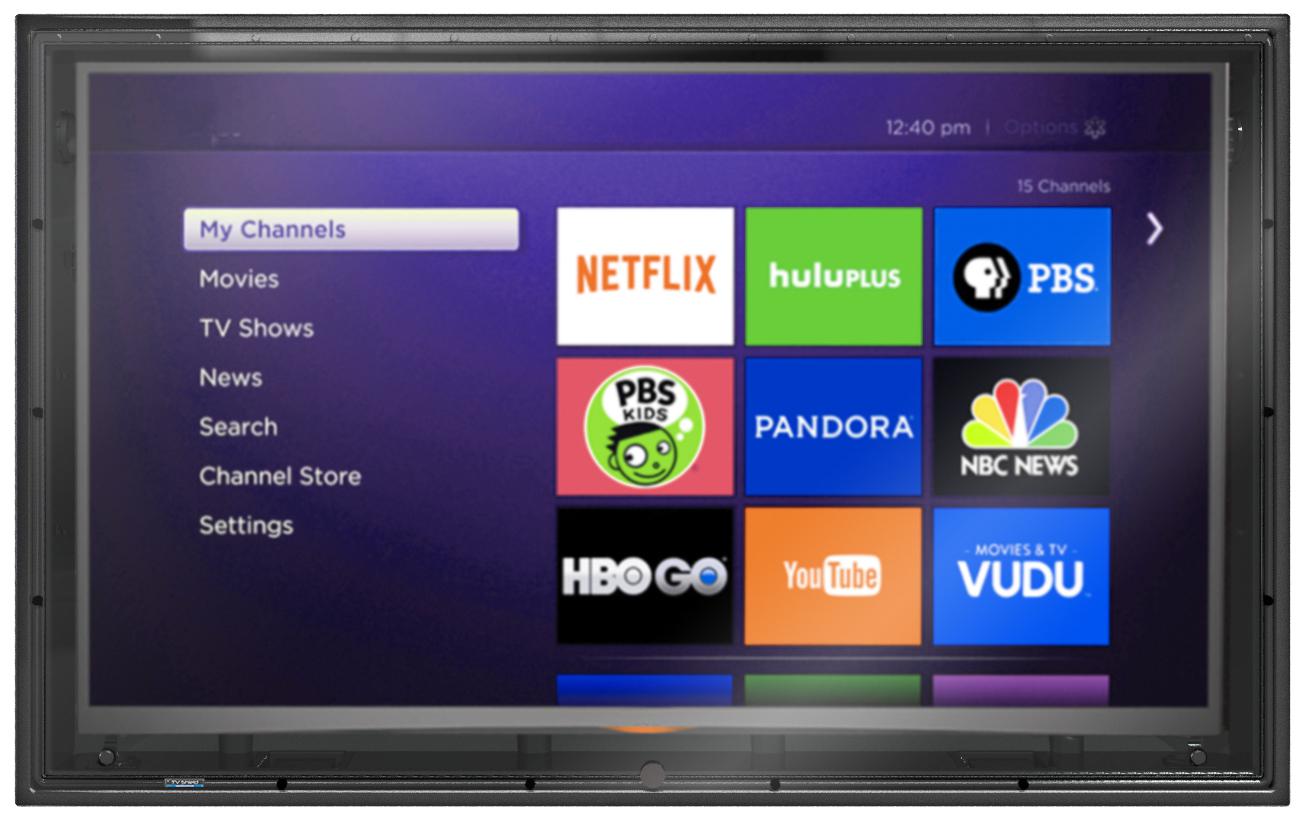 Made from an extremely durable outdoor-grade polymer (High-Molecular Weight Polyethylene) designed to last 20 years or more, The TV Shield is the brainchild of Florida residents that needed a quality TV enclosure to withstand the brutal summer heat, frequent rain, humidity, dust, moisture, and various other harsh conditions.
This outdoor TV cabinet works with plasma, LED, and LCD screens that range from 19 inches up to 65 inches. The cabinet itself comes in several sizes to create a best fit for your TV and the website makes it easy to get the right size the first time.
This cabinet is about as technologically advanced as the TVs it's designed to hold. The front shield offers an anti-flare option and is strong enough to withstand the impact of hammers, baseballs, and more. Plus, the enclosure offers chambered key lock systems for added security, bug shields, and self-closing grommets which add to its high level of protection against theft or tampering. Prices start at just $399 (varies by size), making this one of the best values in outdoor TV enclosures on this list.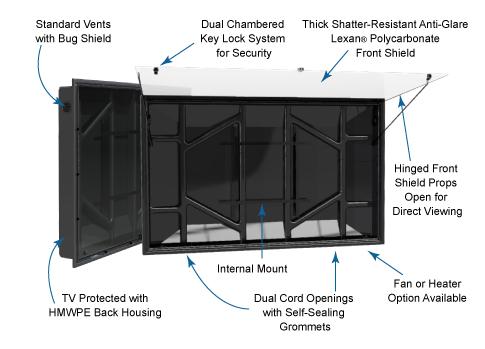 2. The Display Shield
Overall rating : 4.7 out of 5.0
Pros: Low cost and best suited for commercial use
Cons: Doesn't accommodate larger screens
Price Point: Starting at $399 + free shipping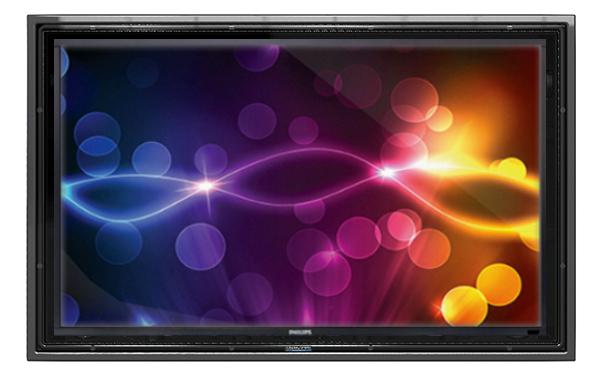 If you're looking for something in a commercial grade range, you'll want to explore The Display Shield. Made from the same company and engineers as The TV Shield, The Display Shield combines all the best features of the original The TV Shield with a few enhancements.
A fan system comes pre-installed on some models, whereas a fan is available as an add-on with the original The TV Shield. This weatherproof TV case offers the same shatterproof Polycarbonate shield (clear or anti-glare options) that can be replaced in case of damage or vandalism. However, the Polycarbonate shield on The Display Shield can be lifted completely off the unit as opposed to The TV Shield where it props open. You also have the added benefit of a vertical configuration with no loss in features or protection.
It's surprisingly lightweight, given its durability and strength. Because of its extra security features, The Display Shield outdoor display cabinet is usually deployed as a commercial option for TVs and digital signage. This unit can be found at arenas, stadiums, theme parks, restaurants, bars, manufacturing facilities, airports, healthcare facilities, hotels, schools, training facilities, government buildings, retail environments, institutions, and a wide variety of applications such as the University of Alabama's Bryant Denny Stadium (click here to read more about this digital signage application in Sound and Communications magazine's article) and Kroger grocery stores, just to name a couple of many examples.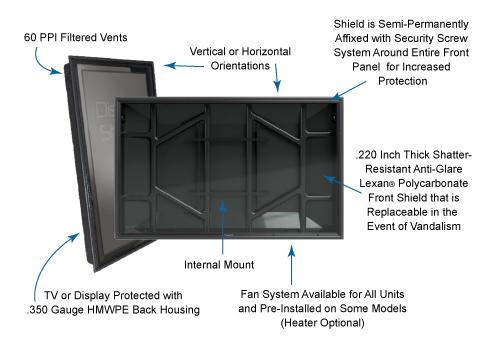 3. Sunbrite Pro Outdoor TV Series
Overall rating : 4.4
Pros: Nice aesthetic look and color options
Cons: Higher cost, limited size ranges, less impact resistance means less peace of mind
Price Point: Starting at $3,295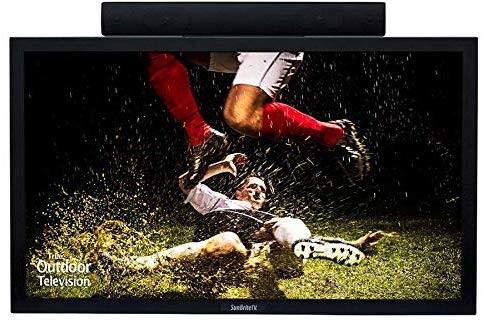 With the Sunbrite Pro outdoor TV series, take your pick of three color options that allow you to match your decor, then enjoy a user-friendly setup and installation that gets your TV up and running fast.
As for features, built-in fan systems come standard to help combat extreme temperatures. They've also included a weatherproof cable entry system to keep out the elements, a powder coated aluminum frame to resist corrosion, and even a weatherproof remote control.
On the downside, they only offer four sizes in this series: 32", 42", 49" and 55". Its smallest model is $3,295, and prices increase with larger sizes. In addition, unlike an enclosure that offers a shatterproof shield in front of our TV or display, the Sunbrite outdoor TV screen is directly at risk to flying objects in harsh environments. There are less expensive options available that you can get without sacrificing protection and quality.
4. OBX Bonded Landscape Outdoor TV
Overall rating : 4.4
Pros: Made for the outdoors and is sealed against elements
Cons: No tamper resistance and theft prevention features, impact resistance concerns
Price Point: Starting at $2,935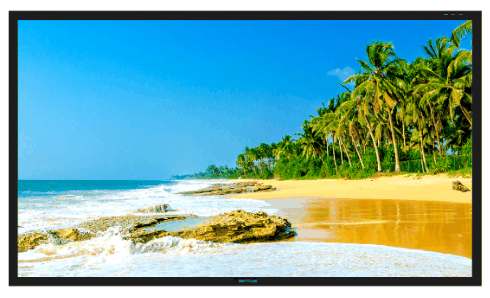 To be clear, Skyvue's OBX Bonded Landscape Outdoor TV isn't an enclosure. The TV is built for outdoor use, with models for both full and partial shade. Cased in aluminum, the TV is sealed to help withstand moisture hot or cold climates. The TV itself boasts 4K HD resolution and you can add speakers for an additional cost. And speaking of technology, they've developed each TV to be compatible with Amazon Alexa and Google Home. The frame comes in five designer colors to fit with your outdoor color scheme, which adds to its versatility.
It's a great TV - nothing to argue about there. It's nice that it works with Amazon Alexa and Google Home. At the same time, TV capabilities and smart devices evolve and upgrade fast, making Smart TVs and features like basic Amazon Alexa and Google Home outdated quickly so it's nice to have the option to add devices with the TV. A protective enclosure allows you to protect your TV as well as devices like Apple TV, Roku, etc.
The Skyvue TV's sealed casing reduces the need for TV protection, but in doing so, it also eliminates protection benefits of enclosing your TV. One of the perks of an outdoor TV enclosure isn't just to keep out weather threats, but also bugs, critters, thieves, vandals, and others who might inadvertently cause harm. There's nothing here to mitigate damage to the unit, such as someone trying to pry it off the wall.
In addition, unlike an enclosure that offers a shatterproof shield in front of the TV or display, the Skyvue outdoor TV screen is directly at risk of damage or breakage caused by flying objects (footballs, golf balls, branches during storms, you name it). That's an expensive TV replacement if the screen is damaged which is certainly a possibility in an outdoor environment. Even if you do decide to go with an outdoor TV like Skyvue, it might be worth enclosing it anyway for the tamper resistance, media device options, and screen protection. Or if you're looking to truly stay on a budget you may be better off to pick a more affordable regular TV of your choice and pair it with a low cost The TV Shield or The Display Shield to more comprehensively withstand outdoor threats for years to come.
5. The TV Shield PRO
Overall rating : 4.9 out of 5.0
Pros: Sleek aesthetic design with high-quality materials, durability, 7-year warranty, accommodates large screens, weatherproof touch screen available, more value compared to other options
Cons: Will not fit TVs under 40 inches
Price Point:Starting at $1349 + free shipping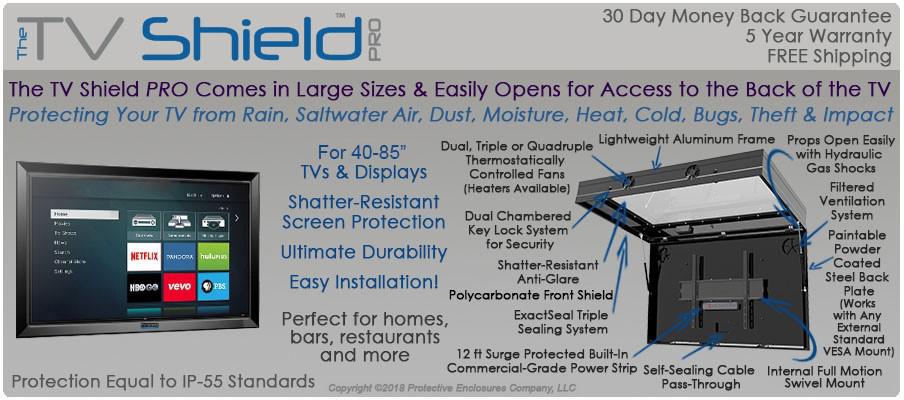 Another top-notch outdoor TV cabinet from The TV Shield family is The TV Shield PRO, which has been designed to accommodate larger televisions with superior protection and similar user-friendly design as the original The TV Shield.
The TV Shield PRO features a beautiful sleek picture frame design and allows easy access to the back of the TV for better cable management and cleaning. It also gives you the same level of security and protection with the dual key lock systems, anti-shatter screen, and fan system, and plenty of ventilation.
The most notable difference is that while most other outdoor TV enclosures are made of industry-standard plastic or wood, The TV Shield PRO is made of a high-quality powder coated steel that can be painted to match your decor. Another thing to know about The TV Shield PRO is its versatility in functionality and options, such as powder-coated aluminum and steel to resist corrosion in coastal or salt-water locations, its touch screen add-on frame, vertical format variation, and the available anti-ligature add on hood.
The TV Shield PRO can accommodate screens ranging from 40 inches up to 85 inches.
6. Peerless
Overall rating : 4.3
Pros: Sturdy construction, security features
Cons: Expensive, no touch screen functionality, doesn't accommodate a large range of sizes
Price Point: Starting at $3,993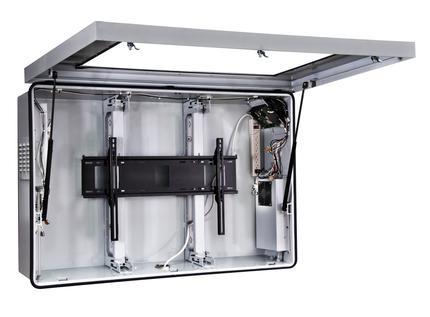 Last but certainly not least on our outdoor TV enclosure roundup, Peerless' protective enclosure is made for indoor or outdoor use in home or commercial environments. The main priority is to protect the television from most outdoor elements, including extreme heat or cold, rain, snow, or debris stirred up by strong winds. The unit has a built-in fan system that prevents overheating, along with water protection and a rubber gasket seal.
The cabinet itself is made of steel to resist rust and corrosion, so expect a high level of durability. The entire device is enclosed within the cabinet, and while this can be good news if you want to protect against theft, vandalism, and weather, it also means not having easy access to cords or touch screen capabilities. In addition, the steel construction makes for a very heavy cabinet.
The biggest downside to the Peerless outdoor TV enclosure is the price. Granted, it's a sturdy cabinet made from quality materials and some of the best tech in TV protection, but with a starting price of nearly $3,400, it's not a cabinet that can fit into the typical budget. There's also no warranty or satisfaction guarantee listed on their website, so that's something you'll want to remember to ask about before ordering.
Best Outdoor TV Enclosure Comparison
Handy chart for side by side comparison:
| | | | | |
| --- | --- | --- | --- | --- |
| Outdoor TV Enclosure | Screen Sizes | Price | Warranty | Rating |
| The TV Shield | 19" - 65" | Starting at $399 + free shipping | 5 year warranty with 30-day money back guarantee | 4.6 |
| The Display Shield | 19" - 65" | Starting at $399 + free shipping | 7 year warranty with 30-day money back guarantee | 4.7 |
| Sunbrite Pro Series | 32", 42", 49" and 55" only | Starting at $3,295 | Two year parts and labor warranty | 4.4 |
| Skyvue OBX Bonded Landscape Outdoor TV | Various sizes ranging from 43" to 75" | Starting at $2,935 | Standard 2-year warranty | 4.4 |
| The TV Shield PRO | 40" - 85" | Starting at $1349 + free shipping | 5 year warranty with 30-day money back guarantee | 4.9 |
| Peerless | 40" - 55" | Starting at $3,993 | None specified | 4.3 |


Buying Guide: How to Choose the Right Outdoor TV Enclosure
There's a lot that goes into choosing an outdoor TV cabinet for your home or business, and price isn't always the most important factor. When you're protecting something as expensive as a television, it's important to think about security features, weatherproofing, warranty, and durability to back up your investment.
We've put together some additional information that will factor into your decision:
Size
If you're buying an outdoor TV enclosure, you've probably already got the monitor and just need this final accessory to create your space. Start with the size of your TV, since no amount of shiny features or discounts will do the job if the enclosure you want won't fit your TV.
If you're not sure how big your TV is, measure the diagonal from the top corner to the bottom opposite corner.
Warranty
Warranties can offer peace of mind that your new investment is protected, but they also serve another purpose.
A warranty is a direct reflection of the manufacturer's faith in the product. If they're willing to offer a warranty, that's because they feel confident that your product will last longer than the warranty period. They're comfortable taking that risk because they know they've built something to last. Don't consider the warranty as an afterthought, but rather an indication of the quality you're buying.
Materials and Engineering
More considerations concerning quality are materials, build, and engineering. When comparing outdoor TV cabinets and outdoor TVs, keep in mind the differences in design and construction, because they are not all equal. Some things to note are that a simple outdoor TV, without an enclosure, isn't going to offer the level of impact resistance when it comes to protecting the front of the TV or display from flying objects. In addition, utilizing an enclosure means you can house whatever TV and technology you would like within the TV case that will last years and years. So, over time, you can upgrade your smart device like a Roku or house the latest Smart TV in the cabinet and protect all of your technology from the elements.
Also, sometimes low-quality enclosures pop up on the market, but products like those don't qualify for this list because they use much lower quality plastics or materials, don't have strong molded ribbing and will bend or give in the elements as opposed to materials like High-Molecular Weight Polyethylene or powder-coated aluminum and steel that are truly built for durability. Sometimes the cabinets lack true security (they have latches which don't protect like chambered key locks) or other important options like temperature control. Be aware of and watch out for those low-quality designs that don't offer the engineering level of established veteran companies and products.
Installation
Ease of installation can be a major factor in your buying decision. If you're paying someone else to install your new TV cabinet, this isn't as much of an issue, but if you're doing it yourself, you should pay attention to the complexity of installation and how long it will take you.
With the right tools, most weatherproof TV cabinets can be installed fairly quickly and without much frustration. Still, you might want to review the instructions prior to purchasing to know exactly what to expect.
Satisfaction Guarantee
Warranties only cover product defects and parts, not your overall satisfaction. In addition to a good warranty, make sure your provider will allow you to return the TV cabinet if you're not 100% satisfied. You shouldn't have to be stuck with your purchase if it simply doesn't meet your needs or expectations, especially if you opted for one of the more expensive options on our list.
Final Word
You should have everything you need to make an informed buying decision for your new outdoor TV enclosure . The six products in this review are some of the best on the market and cover just about every use, so start your search here. Happy shopping!