Posted by Emilyann Girdner on 14th Mar 2019

PEC's 10 Year Anniversary:
In 2009, Justin and Jarad King started the business venture of their lives. They wanted to watch TV in their back yards, but quickly realized their options were expensive outdoor TVs, time-consuming do-it-yourself options that don't really do the job or nothing at all. Determined to develop a better alternative for watching TV outside, they launched Protective Enclosures Company (PEC), and worked on a weatherproof, sturdy, secure and economical outdoor TV option. They spent two years trouble-shooting, researching and engineering until The TV Shield branded weatherproof outdoor TV enclosure was born.
The TV Shield Weatherproof Outdoor TV Enclosures:
10 Years of Innovation and Success:

In 2019, Protective Enclosures Company is thrilled and proud to celebrate 10 incredible years of business. PEC has launched numerous USA-made products (The TV Shield, The Display Shield, The TV Shield PRO, The TV Shield PRO Lite, The TV Shield Portrait, The TV Shield PRO/PRO Lite TOUCH Screen), appeared on countless news and TV outlets such as Fox News and Designing Spaces, formed various business partnerships, joined industry associations, and more. PEC is honored and grateful for so many opportunities and the success the business enjoys today. Over the years, PEC's outdoor TV enclosures have been expanded to fit expansive application challenges from unique hot or cold climates, to salty ocean air, and much more. PEC's outdoor TV enclosures and weatherproof digital signage cases now protect TVs and video displays in over 23,000 residential and commercial locations from the US ARMY Institute for Chemical Research to mines in Chile and 38+ countries worldwide.
PEC Products Offer Various TV Protection Solutions:
Heat protection for cold temperatures

Cooling for hot environments

Sun damage resistance

(

film available

)

Rain, wash-down, and general water defense

Durability for storms

Moisture resistance

Dust and grime protection

Robbery and vandalism security

Pest and insect defense

Salt air/corrosion protection

Durability against flying objects

Self-harm and ligature resistance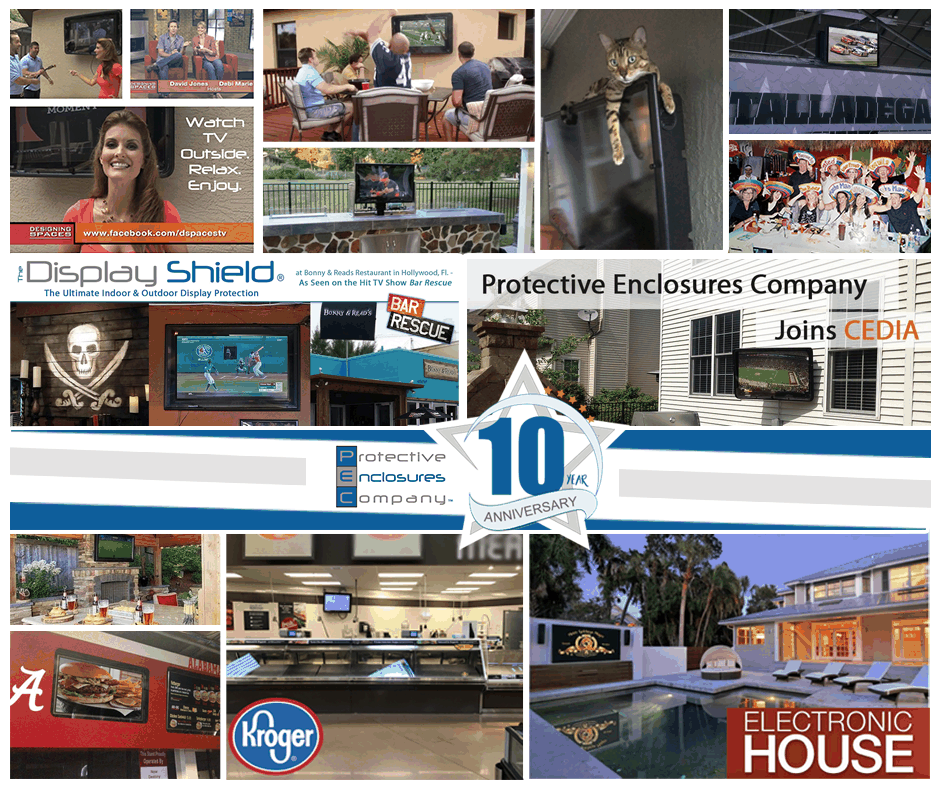 Browse PEC's TV and Display Enclosures - Try Our Easy Product Selector>
Some of PEC's Innovative Outdoor TV Enclosures & Products

:
---





THE TV SHIELD ®

Residential Outdoor TV Enclosure


PATENTED, UNIVERSAL, LIGHT-WEIGHT, PLASTICS BASED, WEATHERPROOF INDOOR AND OUTDOOR TV CABINETS FOR 19-60" TVS/DISPLAYS








HMWPE Plastic (US Patent 9235232)

Lightweight

Anti-Glare (Available)

Key Lock(s) System

Sizes: 19-60"

Affordable (Outdoor TV Alternative)





THE DISPLAY SHIELD ®

Indoor & Outdoor Digital Signage Enclosure

PATENTED, UNIVERSAL, LIGHT-WEIGHT, PLASTICS BASED, WEATHERPROOF INDOOR AND OUTDOOR DIGITAL DISPLAY ENCLOSURES FOR 19-60" DIGITAL SIGNAGE/DISPLAYS







HMWPE Plastic (US Patent 9235232)

Portrait or Landscape

Anti-Glare (Available)

Security Screw System

Sizes: 19-60"

Affordable (Outdoor Digital Signage)

---

---




THE TV SHIELD PRO ®


Professional Outdoor TV Enclosure

PROSUMER/PROFESSIONAL, UNIVERSAL, METAL "HYBRID" WEATHERPROOF TV ENCLOSURE FOR 40-85" TVS/DISPLAYS












Aluminum/Steel (Patent-Pending)

Anti-Glare (Standard)

Touch Screen (Available)

Sizes: 40-85"

"Quick Install TM" System

Proprietary, Sleek & Highly Secure Design







THE TV SHIELD PRO PORTRAIT ®

Vertical Professional Outdoor TV Enclosure

THE TV SHIELD PRO PORTRAIT IS A PROFESSIONAL-GRADE WEATHERPROOF DIGITAL DISPLAY ENCLOSURE






Triple Powder Coated Steel (Patent-Pending)

Anti-Glare (Standard)

Touch Screen (Available)

Sizes: 40-65"+

"Quick Install ™" System

Proprietary, Sleek &
Highly Secure Design







---




---





THE TV SHIELD PRO LITE ®


Indoor Anti-Ligature TV Enclosure

SLEEK COST-EFFECTIVE PROTECTIVE TV ENCLOSURE FOR 40"-80" TVS/MONITORS BUILT USING LIGHTWEIGHT ALUMINUM FOR ULTIMATE STRENGTH AND DURABILITY












Ligature Resistant

Lightweight

Tamper Proof

Simple Installation

Suitable for Hospitals,
Mental Institutions,
Correctional Facilities,
Care Homes,
Schools and More








THE TV SHIELD PRO TOUCH ®

Indoor & Outdoor Touch Screen TV Enclosures

COMPLETELY ENCLOSE ANY STANDARD OFF THE SHELF FLAT SCREEN TV AND TURN IT INTO A PROTECTED INTERACTIVE TOUCH SCREEN






Indoor & Outdoor

Sizes: 40" Up to Industry-First 80"

Portrait or Landscape Options

Includes 2 Point Touch
(Up to 10 Touch Points Available)

Shatter-Resistance & Durability












---




---




THE TV SHIELD PRO LITE ANTI-LIGATURE HOOD ®


Indoor Anti-Ligature TV Enclosure

LIGATURE RESISTANT, TAMPER PROOF TOP DESIGNED FOR USE WITH THE TV SHIELD PRO LITE SERIES ENCLOSURES








Ligature Resistant

Tamper Proof

Simple Installation

Cost-Effective

Designed to Prevent
Intentional or
Accidental Self-Harm
to Patients or Others

Popular in Hospitals,
Mental Institutions,
Correctional Facilities,
Care Homes, Schools,
Nurseries and More


TVS AND COMMERCIAL DISPLAYS

Consumer Favorite TVs and Digital Displays

A WIDE ARRAY OF PROFESSIONAL GRADE LED, LCD AND HIGH NIT TVS AND DIGITAL DISPLAYS (DYNASCAN, PHILLIPS, LG AND RCA)










DynaScan, Philips, LG, RCA

Sizes: 19-85"

Cost Effective and
Affordable Options

TV Kits Including Enclosures, Accessories,
and TVs or Displays
are Available

LED, LCD, High Nit







---




---
Browse PEC's TV and Display Enclosures - Try Our Easy Product Selector>