How To Install Outdoor TVs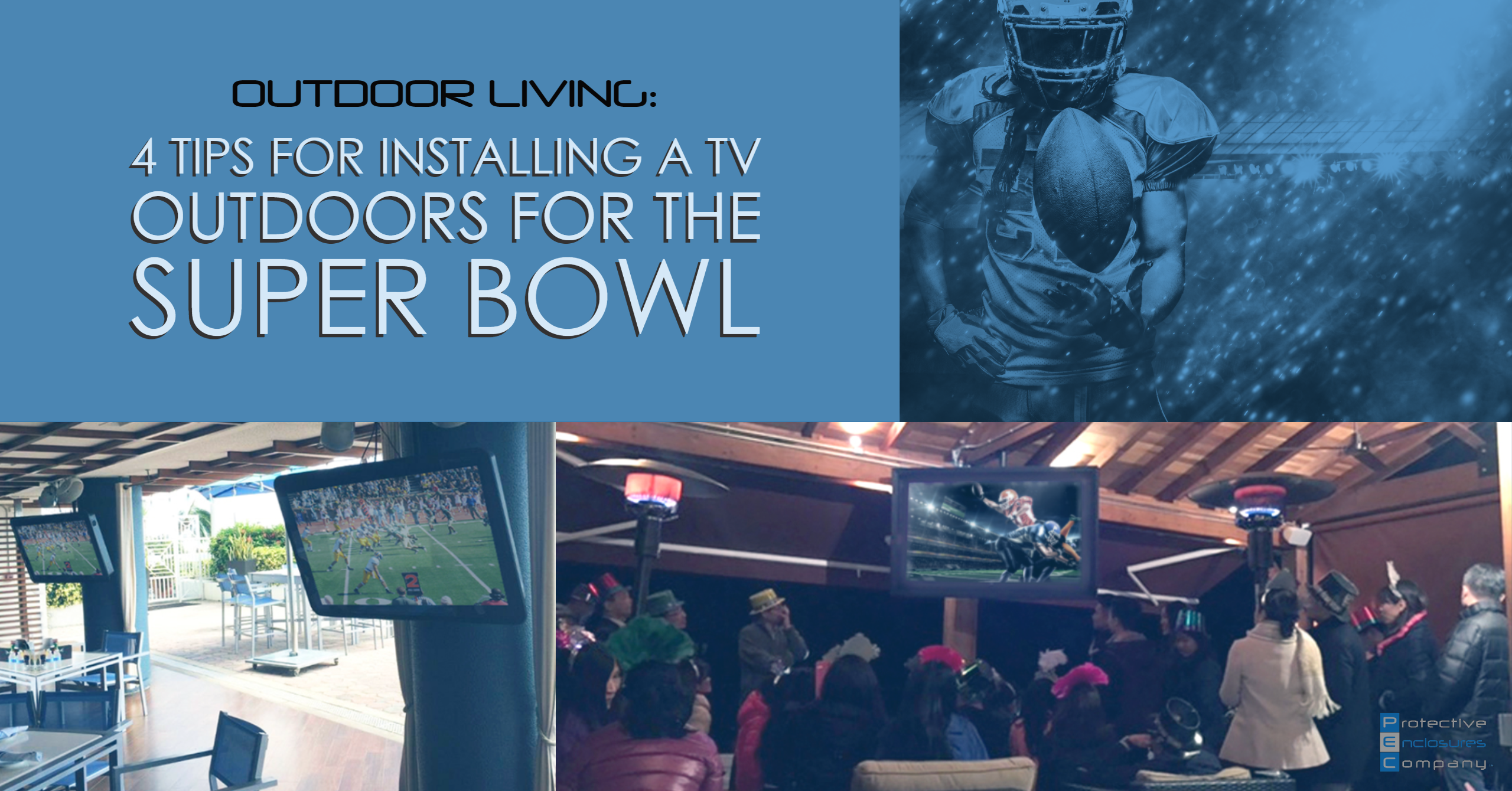 Installing a TV outdoors is a growing outdoor living trend, offering you a whole new way to enjoy your favorite sports!

Super Bowl Sunday will be here soon, and if you can't enjoy the game in person, throwing a Super Bowl party in your outdoor living space is just as fun.
Homegating and installing a TV outdoors are growing trends, offering you a whole new way to enjoy your favorite sports. If you're wanting to keep your TV outdoors for the long haul, it's best to install it the right way the first time to protect it and keep it working like new.
Below are some top tips for adding a TV to your outdoor living space, just in time for the Super Bowl.
Choose the Right TV for Your Outdoor Living Space
It's not just a matter of grabbing your living room TV and taking it outside. Outdoor dynamics are completely different than your mood-lit living room. You'll need to consider glare and other natural lighting conditions that will affect the quality of your picture.
There is also such a thing as an outdoor-rated television enclosure. These outdoor TV cabinets have been made specifically to cater to outdoor viewing and include thoughtfully-designed features for reducing glare and optimizing your picture for natural light. Plus, the materials are usually made to withstand the elements, dissipate heat, and will work over the long term.
One other thing to consider is the manufacturer's warranty: if you're using a TV outdoors that isn't made for the outdoors, then you could end up voiding the warranty.
Find the Best Location for Installing a TV Outdoors
If you're using an indoor TV outside, picture and sound quality will have a lot to do with where the television is located. Most people opt for a shady spot, such as under a covered porch or awning, to reduce glare and shadows and exposure to the elements. The location will also depend on the time of day you plan on using the TV. For example, the Super Bowl starts in the evening, so sunlight shouldn't be a problem for most viewers. If you're using an indoor TV, it's also recommended to choose a location that is away from swimming pools and heat sources, such as a grill or fireplace.
However, proximity to heat, cold, smoke, pool splashes, or other typical weather conditions isn't such a big issue when paired with a top quality outdoor TV case. In addition, these cabinets offer options like anti-glare that enable placement in more locations without worrying about light reflection on the screen.
Turn Up the Volume
Depending on your outdoor living space, you may need to invest in a sound bar to get enough volume. In particularly loud settings such as next to very busy roads, trucks may zoom by or dogs could start barking right in the middle of the commentary, making your TV's built-in speakers less effective. Depending on your set up, consider if a sound bar or speaker system might be necessary when budgeting for your TV investment.
Use a Top-Rated Outdoor TV Enclosure
Between threats like rain, flying objects, bugs, moisture, hot or cold temperatures, and more, most likely you'll want to give your TV added protection with a top-rated weatherproof TV enclosure. Enclosures are designed to keep out bugs, debris, and water, as well as mitigate risks against heat, vandalism, and other damage.
PEC's outdoor TV enclosures now protect TVs and video displays in over 25,000 residential and commercial locations, from the US ARMY Institute for Chemical Research to mines in Chile and more than 42 countries worldwide.
Don't lose out on big savings just in time for the Super Bowl. For a limited time, take advantage of PEC's 2020 Super Bowl Sale: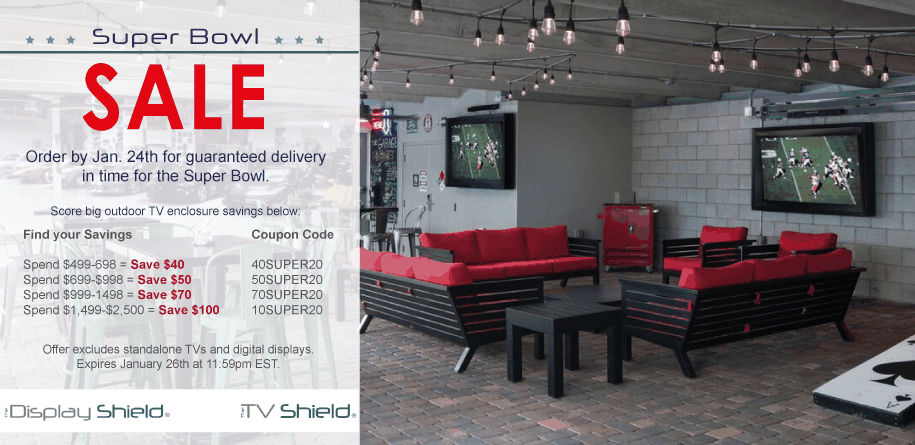 CLICK HERE to shop the collection today and discover the best enclosure that will help you install a TV outdoors with confidence!