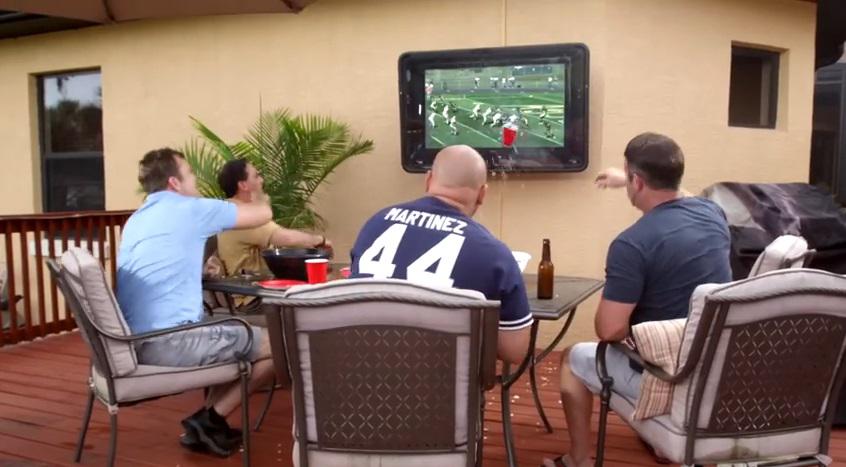 The Benefits of Installing a Professional Outdoor TV Cabinet
If you're considering building a DIY outdoor TV cabinet, you need to be sure it's worth your while – in terms of cost and time – before you embark on the project. It is possible to build an outdoor TV enclosure, but you need to weigh the costs in terms of materials, versus how long it will last, and whether it will be a fit for all of your needs. In our experience (frequently being called upon after a failed DIY outdoor TV cabinet!), there are a huge range of benefits to installing a professional outdoor TV cabinet instead.
The 3 Main Factors of DIY Outdoor TV Cabinets
When considering whether to build outdoor TV enclosures by hand, or to purchase a purpose built outdoor TV cabinet, you need to consider three key factors:
Cost: The cost of the materials required for a DIY outdoor TV cabinet versus the costs of installing a professional one.
Time: The time it will take you to build the outdoor TV enclosure versus the timescale of installing a professional one.
How well it is fit for purpose: This includes looking at how successfully you have achieved waterproofing and weather-proofing, as well as how you have solved glare, noise, electrical, security, and humidity issues.
It is quite a tall order to achieve success with all three factors. For example, ensuring your DIY outdoor TV cabinet doesn't suffer from condensation build up can require additional expense beyond the basic materials of a cabinet, for example a dehumidifier and fan. The benefits of a professional outdoor TV cabinet address each of these issues, and more.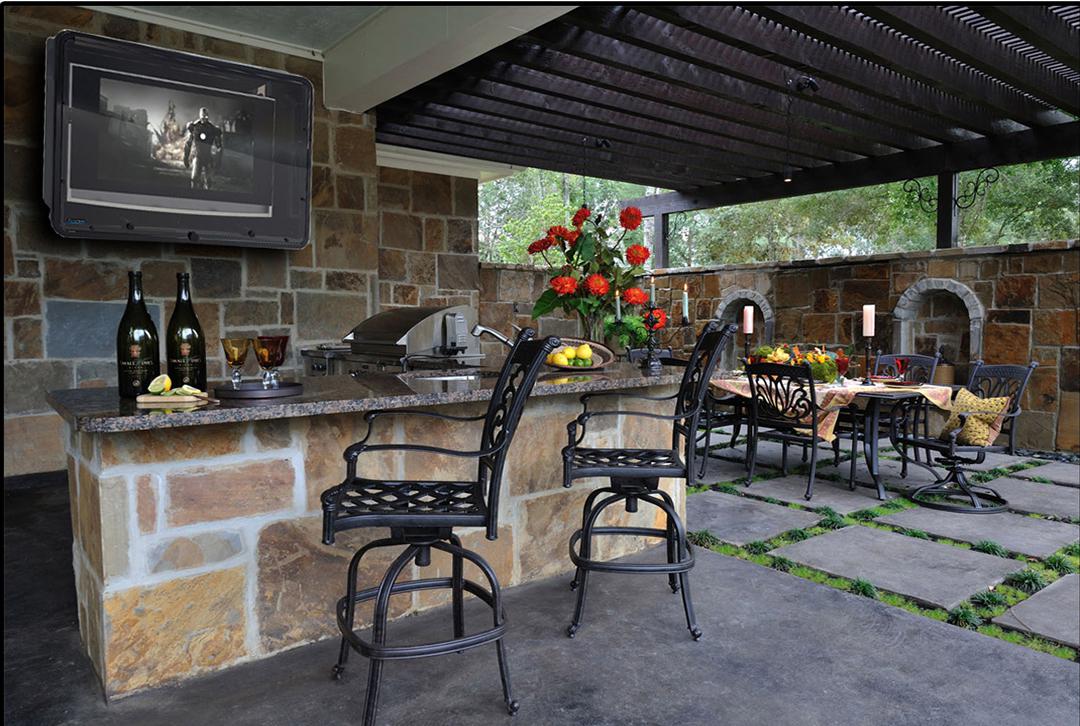 The Benefits of a Professional Outdoor TV Enclosure
Time: We estimate that a DIY TV enclosure will take you a minimum of 20 hours to source the materials for, construct, and erect. Conversely, a The TV Shield® and The TV Shield Pro® are quick and easy to install. You can purchase the correct mount at the same time as the shield and be sure you've got the right tools for the job.
Cost: The cost of a DIY TV enclosure can quickly mount up. You're not just looking at the enclosure itself, but the mount, security features, anti-glare, and fans. Alternatively, buying them all from one supplier, or even choosing a complete Outdoor TV Kit ensures that you keep the costs affordable. The TV Shield® is available from just $399.
Lightweight: One of the big problems of a DIY installation is weight. Wall mounting requires you to keep the weight of the enclosure down, which is tough when weatherproofing is essential. The TV Shield and TV Shield Pro are designed to be lightweight. The TV Shield uses lightweight plastic, and the TV Shield Pro lightweight aluminum.
Anti-Glare: When building your own DIY outdoor TV cabinet you may have a few problems with glare. Quickly you find yourself with a much bigger project including awnings and pergolas. We can include anti-glare in the professional outdoor TV cabinet itself.
Security: With The TV Shield® and The TV Shield Pro®, security is built-in as standard. Key lock systems and the front shield is built using ultra-clear grade Lexan® polycarbonate – the material used in bulletproof glass!
Weather-Proofing: This is a real tough spot for the Do-It-Yourselfers. Getting something waterproof which doesn't trap humidity is probably beyond most amateurs. The TV Shield uses HMWPE plastic which will last 20+ years, whereas the TV Shield Pro® is powder-coated to prevent the problems of water exposure over time. The TV Shield Pro® comes with a thermostatically controlled and filtered air circulation system, as well as various options for additional weather-proofing add-ons.
Installation: The TV Shield Pro is exceptionally easy to install with its unique 'Quick Install' system with internal full motion, and a fully-articulating mount for easy adjustment.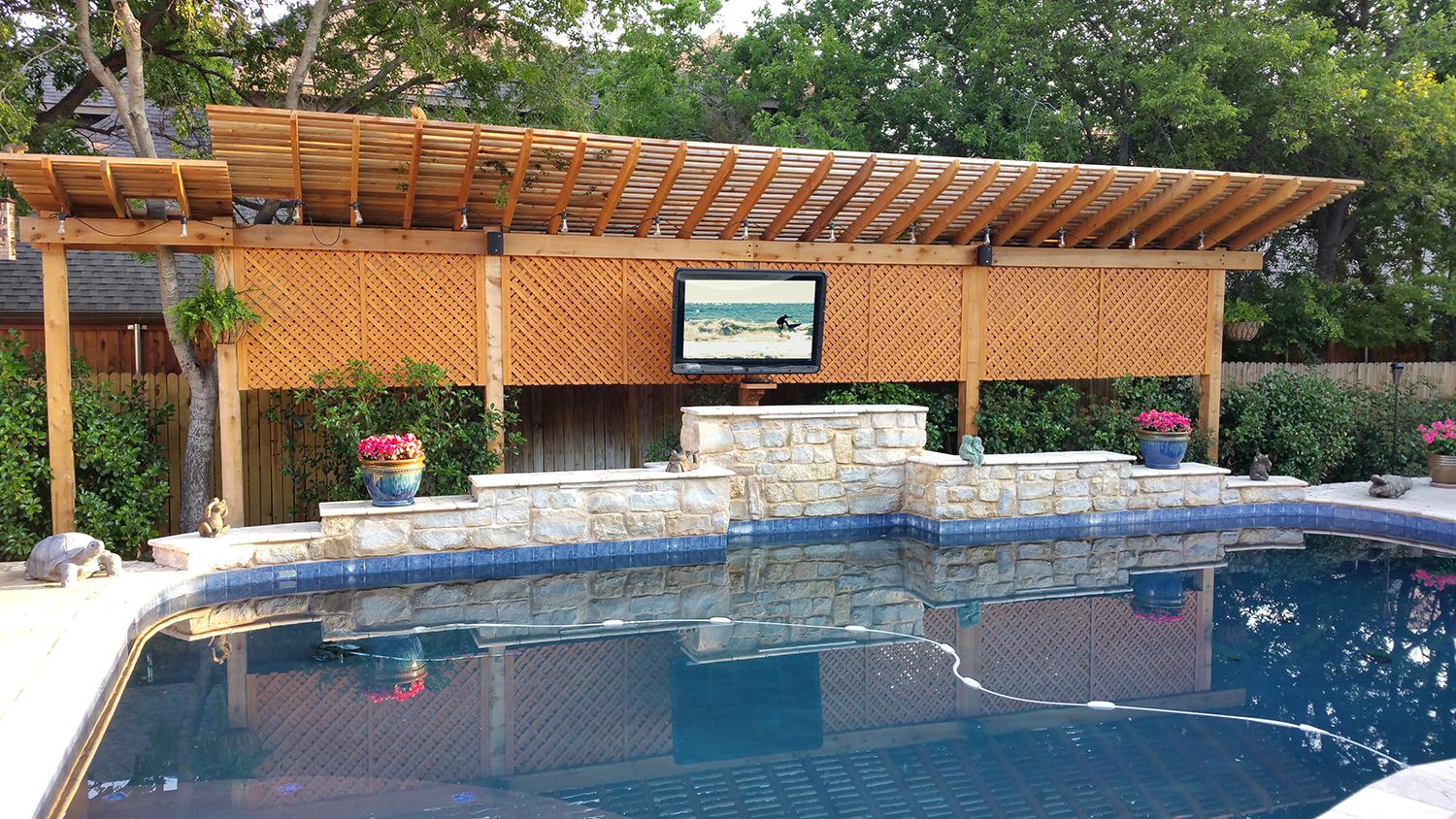 These benefits are exceptionally difficult to replicate in a DIY option. When you come to build your outdoor TV enclosure, you should feel sure that you're getting best bang for your buck, and a piece of equipment which is up to the task. So don't waste time and money, but choose a professional outdoor TV cabinet with a 3 year Warranty, and a 30 day money back guarantee. The TV Shield® is designed specifically for the job.