Posted by Emilyann Allen on 11th May 2020
How To Clean The Different Types Of TV Screens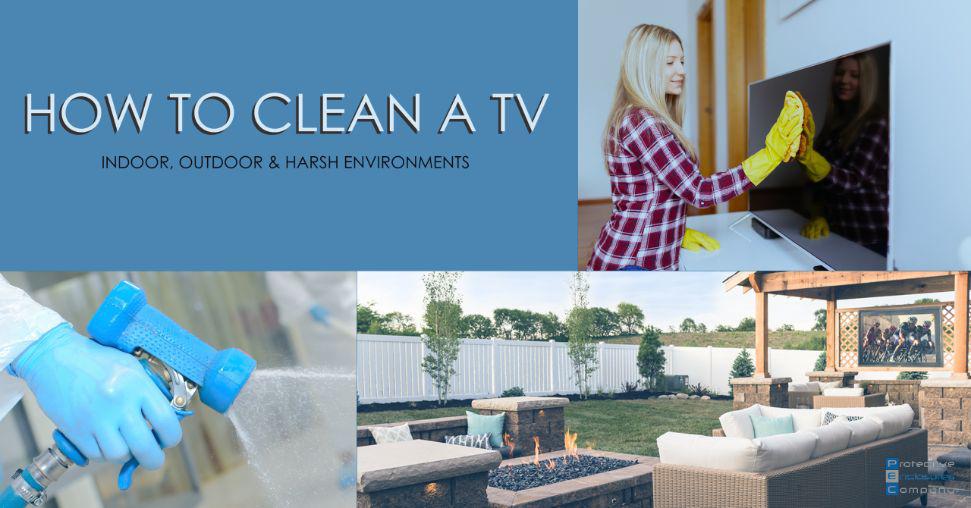 Wondering how to clean a TV? We all want our homes and electronics to look their best which means keeping them clean. Not to mention, we're all aware of the health benefits of disinfecting our environments which includes furniture and TVs at both homes and businesses. However, when it comes to electronics, we need to be sure we clean correctly so they don't get damaged. If you're wanting to put a TV or digital sign in an outdoor space, that opens a whole new can of worms. So, let's get straight to the logistics of how to clean a TV screen indoors or outdoors and other TV protection and disinfection tips.
Article Contents:
How to a Clean TV (Indoor)
Basic Cleaning: How to Clean a TV Screen
Industrial, Heavy Duty, and Wash Down TV Screen Cleaning Tips
How to Clean an Outdoor TV Enclosure (Keep a TV Clean Outside)
How to Clean a TV (Indoor):
Basic Cleaning: How Do You Clean a TV Screen?
TV screens of all varieties (4K, LED, LCD, plasma, etc.) are more fragile than you may think. How do you clean a flat screen TV? What about a plasma TV? Some cleaning rules generally apply across the board for TV variations. Knowing the best way to clean a TV screen is important. It isn't ideal to apply soap, window cleaner, wax, or other common cleaning products to a TV screen. Similarly, paper towels and abrasive cleaning pads are not safe for cleaning TV screens either. Incorrect cleaning solutions can result in permanent damage including stripping the anti-glare coating off the front of the TV.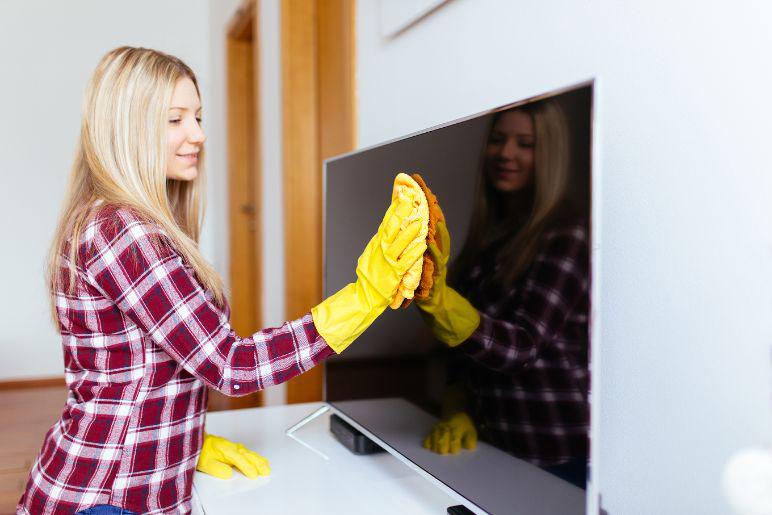 TV Screen Cleaning Tips and Steps:
First, check your owner's manual. Different TVs may require slightly different treatment. In general, the following steps are typically fine for most TV screens, but it never hurts to consult your manual to be certain.
Make sure your TV is turned off and unplugged. Use a microfiber cleaning cloth to gently clean the frame and TV screen. Be gentle and don't press with heavy pressure. TV screens are fragile and can be damaged when pressed too hard.
If there are particularly difficult spots, spray minimal water on to your microfiber cleaning cloth and gently wipe those areas.
Let the TV dry completely before you plug the TV back in.
How to Clean a TV in Harsh Environments:
Industrial, Heavy Duty, Sanitation, Wash Down TV Screen Cleaning Tips:
Some businesses and facilities such as hospitals, food processing facilities, or manufacturing plants need to perform full wash downs in rooms that may have been exposed to infections or chemicals. Or perhaps raw meat or other food is handled in the rooms, so the rooms and everything in them need to be completely sanitized, which includes keeping TVs or displays clean in those areas.
If you're looking for high level TV and display protection and being able to keep the TVs and displays clean and disinfected in those environments, you'll want a TV enclosure. The Display Shield TV or digital signage enclosure is an ideal solution. In the article "ProtectedDisplays: Bringing More Information to the Plant Floor" (Process Expo), Joe Harrell explains, "One of the key benefits of our The Display Shield is that the materials we use are chemical-resistant. They allow the manufacturer to perform high-pressure washdowns." The article details that chemical resistance and cleanability makes the products popular with meat processors, manufacturing facilities, retailers, medical facilities such as hospitals, and more. It's the main reason a major supermarket chain purchased over a thousand The Display Shields for the screens in its meat departments. As part of the store's inventory system, the displays allow the meat department to receive notifications about each sale from the checkout line. "They went with our product because of the chemical resistance factors," Harrell says. "They have certain chemicals they have to use in their wipe downs, and we were able to pass those requirements."
How to Clean an Outdoor TV: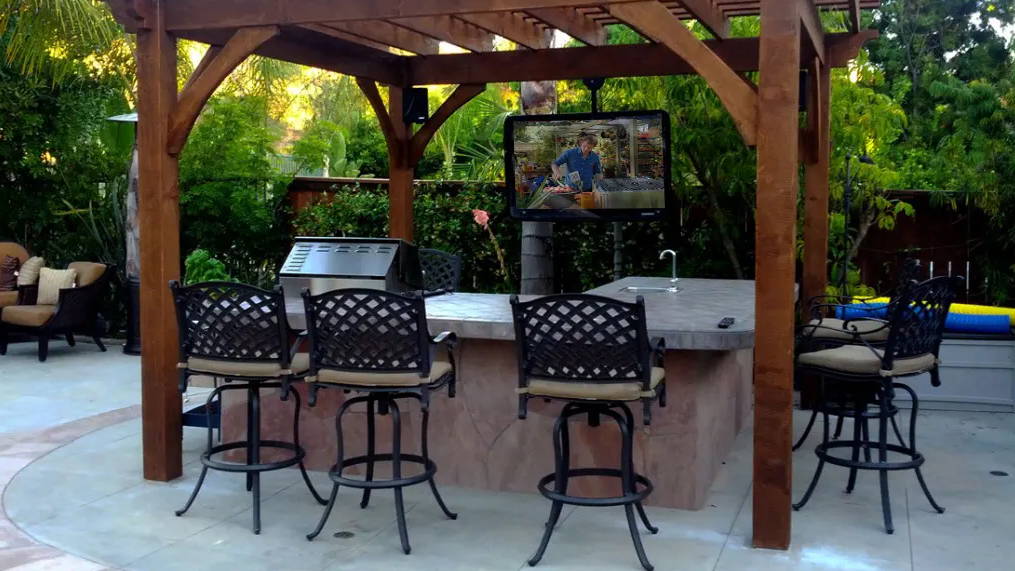 Outdoor TV solutions are becoming common in homes and businesses. If the intent in putting a TV outside is for it to last any reasonable amount of time against the elements, then it needs to be in a quality outdoor TV enclosure. Outdoor TV cabinets also keep the TV clean and protected from many various threats such as theft or flying objects that would otherwise result in a damaged TV screen.
An outdoor TV enclosure keeps a TV clean. However, sometimes it's beneficial to clean the enclosure as well. Your outdoor TV cover will look its best when kept clean.
Never clean the front panel with paper towels because they can scratch the shield.
It is recommended to use approved cleaning and polishing products from the manufacturer or mild soap and water with microfiber cleaning cloths.
Using the appropriate mild soap, water, or manufacturer's cleaner and the provided cleaning pad or a microfiber cleaning cloth, be sure to wipe the front panel gently to keep it clean.
Questions? Reach out any time to Protective Enclosures Company for support (800-331-2628). We're here to help should you need assistance.