PEC Celebrates Success and Invites Shoppers to the Party with a Sale
Altamonte Springs, Fl. — May 20, 2015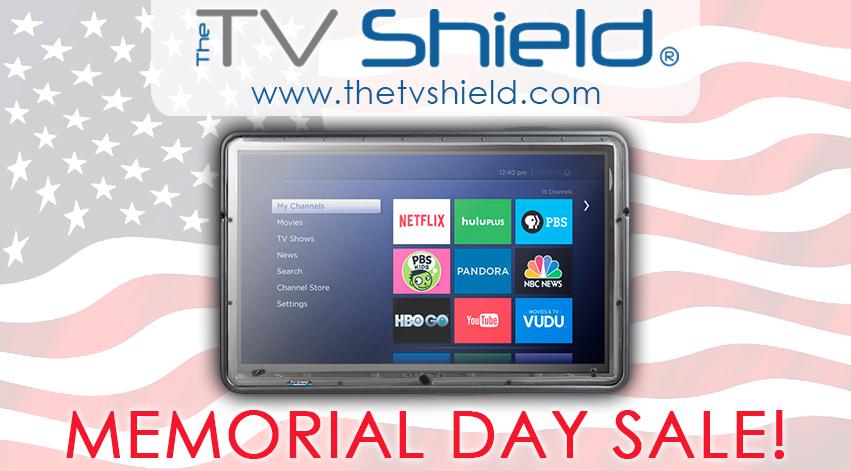 Protective Enclosures Company, the leading American manufacturer of plastic weatherproof TV and digital monitor enclosures, today officially announced that sales have doubled over this time last year. The TV Shield and The Display Shield branded outdoor TV cabinets and weatherproof digital signage solutions can now be found in over six thousand locations and more than fifteen countries worldwide. Affordable, secure, weatherproof, and durable, these outdoor TV cases are becoming American jewels in the consumer electronics and commercial digital signage markets.
PEC CEO, Justin King, stated "This memorial day weekend, PEC is reminded more than ever of the sacrifices of American men and women, who have defended this country so families can live in peace, entrepreneurs can pursue the American dream, and companies can achieve great milestones like the ones PEC will be celebrating this weekend."

PEC's founding and success are a true American dream story. Brother's Justin and Jarad King set out to solve a dilemma. They wanted to put their TVs on their patios, but only found impractical grill covers and budget-buster outdoor TVs. In 2009, the brothers envisioned an economical outdoor TV solution for America and started the business venture of their lives. Focused on creating a better alternative, Jarad and Justin launched PEC, and worked on a weatherproof, sturdy, secure, and affordable outdoor TV option. Determined to produce their product in the United States, PEC faced several challenges such as fewer factory options with thermoforming machines, higher labor rates, and higher material costs.
Despite the obstacles, PEC was able to partner with an American manufacturing company to produce products, and now PEC's newest up and coming product, The TV Shield PRO, is manufactured by PEC at King Precision Solutions. PEC has not only managed to offer affordable outdoor TV solutions while producing product in the U.S., but PEC has also achieved tremendous favor with shoppers as well as an A+ Rating with the BBB. The organization is also now a sizable player in the outdoor digital signage market. The National Navy Seal Museum, the US ARMY Institute for Chemical Research, Bryant-Denny Stadium (at the University of Alabama), Trump International Hotel, Marriott, Talladega Superspeedway, Southwest Airlines, TGI Fridays, Rooms to Go, and Six Flags are just a few places Protective Enclosures Company's weatherproof TV cabinets can be found. PEC only expects business to get even better and looks forward to more exciting milestones. The company speculates that PEC units will be in over 7,000 locations by early summer. With a 2015 Memorial Day Sale that The TV Shield shoppers won't forget and InfoComm just around the corner, PEC's American dream can only get sweeter.

* All PEC, The TV Shield & The Display Shield logos and product names are owned by PEC. Other company and product names may be trademarks of their respective owners, and PEC does not claim official endorsement of any named businesses.