Posted by Emilyann Girdner on 8th Apr 2019
These days, terrific outdoor TV cabinets and weatherproof digital display protection options are available to meet various needs such as watching TV by the pool at home or installing protected digital signs at places like restaurants, theme parks, manufacturing facilities, and much more. But sometimes it's helpful to better understand the differences between the enclosures and which product is best suited for which application, especially if you're new to learning about these products. The brief overview below should clear things up and simplify your search for the correct TV or display enclosure if you're looking for solutions. Below is a quick review of the general use of all outdoor TV cabinets followed by an explanation of the differences between residential, commercial and professional TV cabinets.
Common Purposes and Protection Capabilities of Outdoor TV Cabinets and Display Enclosures:
Extreme durability against flying objects and storm conditions

Heat protection for cold temperatures

Cooling for warm environments

Rain, wash-down, and general water defense

Sun damage resistance (

film available

)

Moisture resistance

Dust and grime protection

Robbery and vandalism security

Pest and insect defense

Self-harm and ligature resistance
---
Comparing Residential, Commercial and Professional Outdoor TV Cabinets and Digital Display Cases:
---
Residential Indoor & Outdoor TV Cabinets
As the name suggests, residential indoor or outdoor TV cabinets such as The TV Shield® are designed specifically to be used by consumers at their homes. For those of us that dream of a relaxing day watching TV in the back yard or hosting movie and pool party nights, the residential outdoor TV enclosure is the ideal consumer friendly and economical solution.
Typically, an enclosure is deemed a residential outdoor TV cabinet because it is built to best fit the needs of a back yard installation at a home, but sometimes residential enclosures may meet commercial outdoor TV or digital signage needs as well.
Residential Indoor & Outdoor TV Cabinets: The TV Shield®
HMWPE plastic case
lightweight
Anti-glare (available)
Key lock(s) system
Sizes: 19-60"
Affordable (outdoor TV alternative)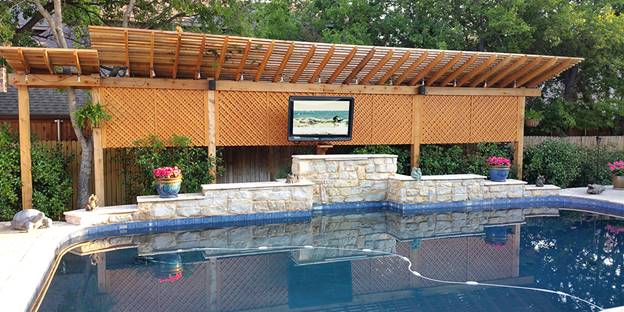 ---
Commercial Indoor & Outdoor TV & Digital Signage Cabinets
Commercial indoor and outdoor digital signage cabinets are tailored to protect digital displays and signs (sometimes TVs) for businesses and organizations. These enclosures are often built with unique relevant added features for public spaces or harsher environments than residential outdoor TV cabinets but at an economical price. Examples of unique needs in commercial applications might include portrait (vertical) digital signage enclosure needs, added theft protection or added resistance to chemicals for manufacturing plants. Needs for commercial indoor and outdoor digital signage enclosures are expansive across almost every industry. Some consumers may have interest in or needs to pair a digital signage enclosure with their TV for use at home, but typically these enclosures best serve commercial application needs.
Commercial Indoor & Outdoor TV & Digital Signage Cabinets: The Display Shield®
HMWPE Plastic Case
Portrait or Landscape
Anti-Glare (Available)
Security Screw System
Sizes: 19-60"
Affordable (Outdoor Digital Signage)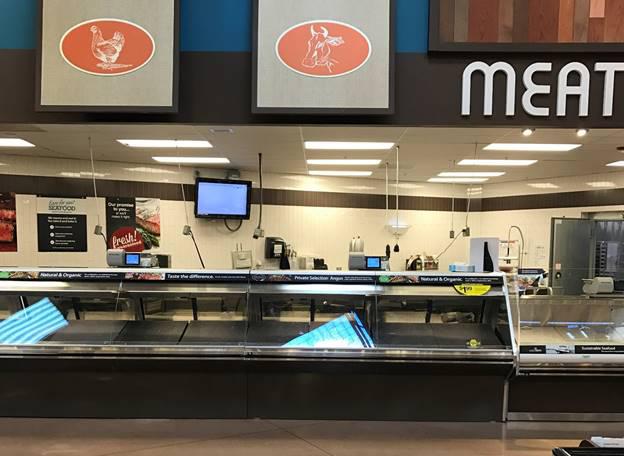 ---
Professional Indoor & Outdoor TV Cabinets & Digital Signage Enclosures
Professional indoor and outdoor TV and digital signage cabinets are high-end and designed for all markets (residential and commercial). These enclosures are geared toward upscale residential outdoor living or commercial uses as well as built with unique relevant features for public commercial spaces or harsher environments than residential outdoor TV enclosures.
They boast the most aesthetic sleek picture frame designs without compromising durability (imagine a Ferrari with the durability of a tank), custom color solutions, larger size options than other outdoor TV solutions, easier install and maintenance functionality than other solutions, and even further additional features like saltwater air damage resistance.
Professional Indoor & Outdoor TV & Digital Signage Enclosure: The TV Shield PRO® Series
Aluminum/Steel (Patent-Pending) Case
Anti-Glare (Standard)
Touch Screen (Available)
Sizes: 40-85"
"Quick Install TM" System
Proprietary, Sleek & Highly Secure Design

Vertical Professional Outdoor TV Cabinet







Indoor Anti-Ligature TV Enclosure







Indoor & Outdoor Touch Screen TV Cabinets



---
How to Select Outdoor TV Cabinets or Digital Display Cases:
Now that you better understand the differences, if you're looking for an outdoor TV or display enclosure, this product selector is a helpful tool for finding the best option for your needs…
Browse PEC's TV and Display Enclosures - Try Our Easy Product Selector>