Ten Top Tips For Enhancing Your Outdoor Living Space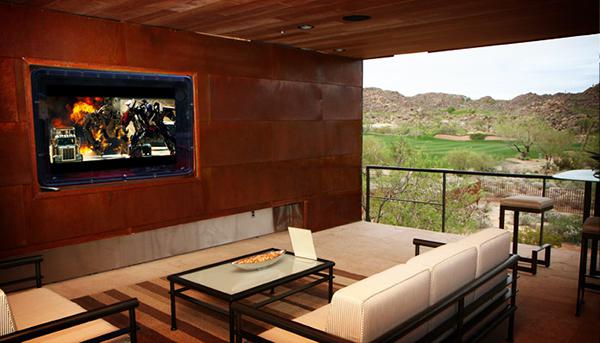 We're King or Queen of our home, taking pride in the space we've created. Whether you live in an area where you get year-round enjoyment from your yard, or are limited to just the summer months, allowing a flow of space from indoor to out can transform your home. Enhancing your outdoor living space will give you more opportunities to unwind, relax, have fun with the kids, and entertain. Getting some fresh air and sun on your face, whilst feeling 'at home', is the goal. Our Top 10 ways to enhance your outdoor living space will get you on the right track.
1. Bring the Inside, Outside
Often the problem with your yard is that you're not focusing on the elements of the inside that you can blend with your outdoor space. By blending elements, and blurring the line between indoors and outdoors, you create a usable, homely space. This might mean installing bi-fold doors, or matching the flooring between the inside and the immediate outside space. If you want some cheaper solutions, then matching cushions, décor, and planters will do the trick. The result will be an inside-outside flow.
2. Get a Room
Your next mission, if you haven't done it already, is to create a 'room within the yard' with either a patio or deck area. As people, we love feeling cozy and secure, and creating a dedicated outdoor living space will help achieve this. Maybe use a low wall, some screening, or an awning to demark the space. If the weather is a problem then get creative with pergolas, gazebos, sunshades, and outdoor heaters.
3. Put a Kitchen in the Yard
Stop and think for a moment – the kitchen is often the heart of the home. Everyone comes through here. Conversations happen here. So get your cooking opportunity in to the outdoors too. With a BBQ and grill, you can quickly create an outdoor cooking space. Whether you're refueling teens, cooking up a hot-dog storm for your kid's birthday, or going for fine dining with friends, you're now fixed.
4. Think Entertainment
What keeps you entertained indoors? You may be surprised to learn that you can bring your indoor entertainment out. Yes, even the TV. With The TV Shield you can bring your TV viewing outside, and not compromise at all – affordably and easily. So whether you want to watch TV for a game around your outside bar, or entice your kids to stay in the pool for some exercise, getting an outdoor TV is the solution. You can even channel the radio through, and party away.
5. Get the Lighting Right
We tend to find, that when creating an outdoor living space, people tend to forget the lighting. All of the planning for your yard takes place whilst looking at it in daylight. However, being able to enjoy your outdoor living space in to the evening involves giving some thought to the lighting. With light fixtures and fairy lights that are designed for outdoor use, you can create a wonderful ambience.
6. Central Focus – and Warmth!
Think about your interior – every room likely has a central feature. In the lounge it'll be the TV, coffee table, or fireplace, for example. You need the same thing outdoors. And for much of the States this can double up by including some outdoor warmth too, by creating an outdoor fire pit. Now you have a cozy warm focus to your outdoor living space.
7. Use Greenery Creatively
Of course, one of the main joys of being in the yard is being able to enjoy the greenery. Carefully plan your planting so that it works with the space and continues to create flow around the yard. Flowers, trees, shrubs and plants can all be used to define areas for relaxation.
8. Think About Privacy
One of the joys of our home is the privacy it provides: shutting the door on the world at the end of the day, and simply being ourselves. In the States we often have wide open yards without much privacy, meaning we often head back indoors. However, with some creative planting, and use of screens and fencing, you can extend the privacy outdoors without upsetting the neighbors.
9. Get the Kids Sorted
If you've got younger kids then whilst at home you'll be where they are. Therefore, if all of their fun and entertainment is located in the house, that's where you'll be. Transform the outdoor living space for them too with age-appropriate yard toys. Once again, the TV can be your savior. By bringing the TV out by using The TV Shield, you can keep the kids right where you want them to be.
10. Get Comfy Seating
We're drawn to the living room because of the comfortable seating. Replicate it outside and you'll find the family comes too.
Put our tips in place, and soon you'll have transformed your outdoor living space.